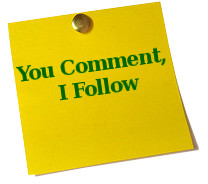 Today, I have decided to make TheItechblog dofollow friendly. First of all I would like to thank Pradeep Kumar of HellboundBloggers who solved my several queries and gave me the courage to proceed in making this blog dofollow friendly.
What DoFollow means?
From today onwards whenever you will comment on this blog it will be followed by Google and will become a backlink for your website. This will help you in getting better rankings in Google and other Search Engines.
Why I converted Theitechblog to DoFollow?
Commenters play an important role in initiating a conversation, and these conversations builds a strong community around a blog.
Making Comments do follow is like rewarding the commenters, who spend their precious time in commenting on the blog. I love my commenters because they bring in more flavor to the article, by giving their views on the topic. Blogging is all about sharing one's views with others and knowing & respecting others views, this is what defines a blog from a website.
I have also added the commentluv plugin which automatically places a link to the commenter's last blog post at the end of their comment, this helps in promoting the latest article of the commenter's blog.
Feel free to comment in! But do not comment for the sake of commenting, brand your comments, which will benefit you both in SEO and Attracting more visitors to your site.
My Favorite Posts to Start Commenting (Random)