Pageviews are the total number of pages visitors of your blog browse through when they are on your website. Page views are directly proportional to the profit you can make from your blog, more the page views more profit you can earn. Average page views per visitor clearly speaks about the popularity of your blog and how much a visitor likes your articles. To make people browse through more pages of your blog you need to take care of certain important things which I will discuss in this article:
1. Related Posts
Displaying links to related posts at the end of each individual post is the best place for people to know more of similar articles about what they were reading and this greatly helps in increasing page views of your blog. You can use various plugins to display a list of related articles or you can manually add links to the similar articles.

You can use Yet Another Related Posts Plugin (YARPP) or WordPress Related Posts plugin to display related articles.
Also see: Google Related Links
2. Internal Linking
Link the keywords and phrases of your article with the older relevant articles, categories or tags. This encourages readers to visit the linked article to read further about the topic or to browse through the category or tag archives. Anyways increases the pageviews of your blog. And internal links also has certain SEO benefits.
Various plugins are available which automatically scans the article and does the linking job. But Internal linking manually to your relevant old posts is more effective rather than doing it automatic using plugins.
For manually interlinking to your old posts you can use Insights WordPress Plugin which makes it much easier.
Check out the following article at Shoutmeload to know more about Internal Linking: Interlink your old blog post to keep your visitor stay long.
[ads]
3. Link Widgets
Various link widgets e.g. Recent Posts, Popular Posts, Random Posts… These widgets display link to the various articles of your blog. These links show up in sidebar of your blog and click-through rates are high on these widgets.
Download Popular Posts Plugin
Download Random Posts Plugin
4. Display Related Posts with Image Thumbnails
Pictures speaks thousand words. You can integrate various free services to your blog which automatically show up the related posts with image thumbnails anywhere you would like. These are easy to integrate. And is much useful in making people view more pages of your blog and also adds to the charm of your blog.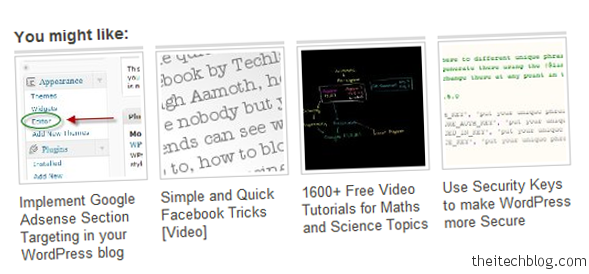 Try Outbrain
Try Linkwithin
You can even display images/thumbnails with YARPP Plugin. Read the following article by 'Build Internet': Display Thumbnails For Related Posts in WordPress.
5. NYTimes style sliding box
This is an attractive way to show more of your blog's links to the visitors. This plugin displays a post from the same category as of the current post. The box slides in or appears as you scroll down to bottom of the page, it immediately grabs the attention of the reader. I first spotted it on the New York Times websites. This plugin genuinely helps in increasing the page views. You can see it live here on this page, just scrolling down .
Download upPrev WordPress plugin
Try this CSS to get a better look.
6. Search Functionality
Adding a search box also helps in increasing page views as it allows people to search your blog for a keyword or phrase. You can use WordPress default search box or Google custom search for adding search functionality in your blog and you can even make money with it.
Read this awesome article How to Set up Google Custom Search for Your Website and Make Money by Doshdosh to learn more.
If you have more tips, do share with us in your comments.