Facebook Mobile is an awesome service by Facebook, which let users be connected with their Facebook Friends anywhere on the go. You can receive friend requests, messages, wall posts and status updates on your phone, and you can even update your status, upload photos and videos as well. You can also from your cellphone add more Facebook Friends to SMS Subscription to receive their updates on phone.
Facebook does not charge for this service. However, Mobile Carriers's normal text messaging rates still apply, you can receive Facebook Updates on you mobile for free, you will be only charged by your mobile service provider at the time you send updates from your mobile.
Also see: 6 Awesome Facebook Tips, Tricks and How to's.
Procedure to Register for Facebook Text Messages
1. To activate this service  goto Account -> Account Settings -> Mobile -> Register for Facebook Text Messages.

2. Follow the on-screen instructions. And Activate your Mobile with Facebook Mobile.
3. After Activation goto Account -> Edit Friends.
4. And add your Friends to SMS Subscription list, whom updates you want to receive on your phone.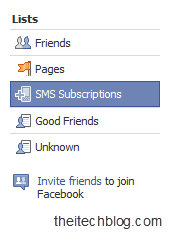 Now you will start receiving Status updates of Friends whom you added in SMS subscription list, on your mobile.
Also see: Make sure Nobody else is using your Facebook Account.
If you experience any problem let me know in the comments.