If you have hundreds of friends on Facebook, don't be in an illusion that you receive updates from all your friends. Facebook in its new release has set a limit on live feeds, you will only receive updates of 250 friends which they select, after which all the updates are blocked. This is an annoyance because you could be mission out very important updates of your friends. So its pertinent to lift this limit. Its easy and you can undo it later if you wish to. Currently if you have less than 250 friends then also as a precaution you can change the settings.
Goto your homepage by clicking on "home" on the top right hand corner.

Click on "most recent" button

Then scroll to the very bottom, click on "Edit Options".
News Feed settings box will pop-up. Change the 250 to 5000 for "Maximum number of friends shown in Live Feed" (5000 is the maximum allowed). And your live feed will start showing updates of all your friends right away.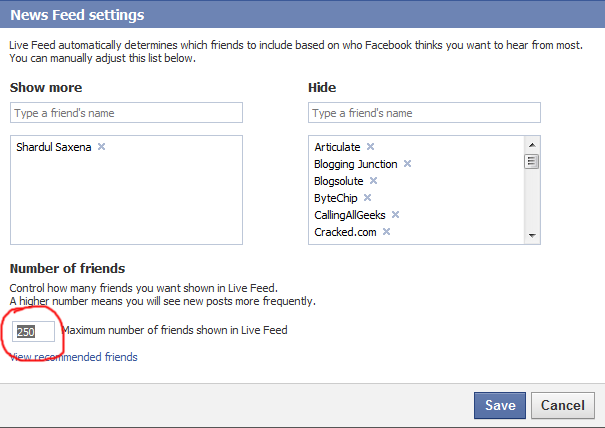 Note: Changing the above values will show new posts more frequently in live feeds.
Also see: Ignore unnecessary Requests on Facebook all at once.
[via
LifeHacking
]