Facebook recently rolled out new home page design with some additions, subtractions and replacements. But I find one feature worth mentioning which was introduced some time before but was missing later i.e. the "Ignore all" option.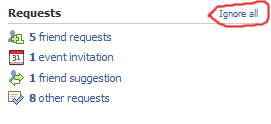 The "Ignore all" has been reintroduced to our beloved Facebook which we can see near requests; this had gone missing from our profiles some time ago. It is a very useful feature if you are tired of all those unnecessary requests you receive for joining obnoxious groups, adding unwanted applications and attending unspectacular events. Now with ignore all option you can ignore them all at once and be relieved from the pain of Ignoring each request individually.
It seems that the Facebook team is putting in real hard work to introduce user – friendly features to the site and making it more and more interactive.