A blogger always wishes to get more and more retweets as to reach to mass audience. Bloggers include retweet buttons in their articles either below the article or above the article at any suitable place where it can be easily found by the readers so they can retweet it to their followers. This can be made more easy by including a retweet link in the tweet itself, so anyone can retweet by clicking the link there itself. example tweet:
article title [link]
after adding a  retweet link
article title [link] retweet link [link]
Visit TweetSmarter, type in your message in the text box, click on special symbols to add them to the message.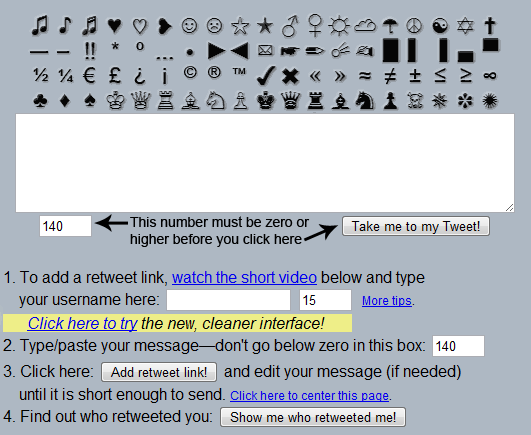 To include a retweet link follow points below text box or watch the video below:
To tweet your message press "Take me to my Tweet" button below the text box and you will be directed to your Twitter homepage.
[via @Twitter_Tips]
You should also look at How to Find if Anybody Unfollowed you on Twitter & Find Out Who Was Your First Follower On Twitter.