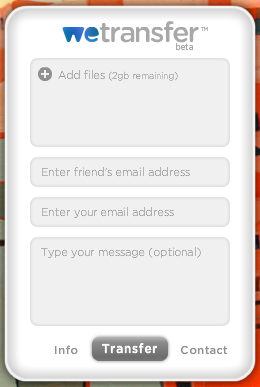 Sharing files Online has become a  basic need for almost all of the people who spend time on internet, it can be for official work or for personal stuff like sharing your favorite song you just listened to with your friends. There are many things to share, but need is of a website which makes sharing simple and easy.
I stumbled a website which is really simple and easy to use, Wetransfer. Following are the points I liked about this website:
Its free
Supports large files upto 2GB
No registration required
Simple and easy to use.
Multiple files can be transfered at once
Its beautiful layout.
The service offers a simple but powerful interface and sports both Flash & basic HTML uploader. All you have to do is just attach files, enter your friends email address, your own email address and some text (optional). That's it and your file(s) will be blown with a breeze to your friend.
Give it a try and let us know in your comments, whether you liked it or not.