Origin of Internet on Mobile Phones made available many free SMS or Voice Call alternatives to mobile users. Lets discuss about the most popular Android apps which lets you send free unlimited SMS to India using your data (GPRS or Wi-Fi) enabled android phone.
Free SMS India is a simple Android Application which lets you free sms to any mobile number in india. The app has a simple to understand GUI. It uses third-party gateways to send free sms – currently supported gateways are – way2sms, fullonsms, site2sms, 160by2. Obviously you need to have GPRS data plan or Wi-Fi connection on your phone to send free sms using this app. You don't need to worry about your GRPS bills as this app claims to uses very less GPRS data as all the processing is done at external servers.
SMS are sent instantly. Although the sms delivery time depends upon the gateway you are using, it has nothing to do with the app.
Free SMS India lets you select contacts from your phonebook, so you wont have to type the contact number each time you send sms thus saving a lot of your time. It also lets you send group messages – that means you can send a single message to multiple recipients. To use the group messaging feature just select multiple contacts from your phone book or manually enter them in the 'send to' input box.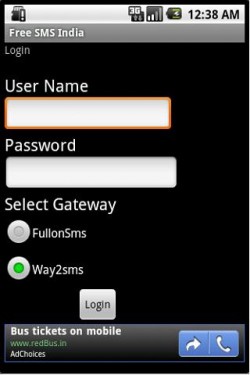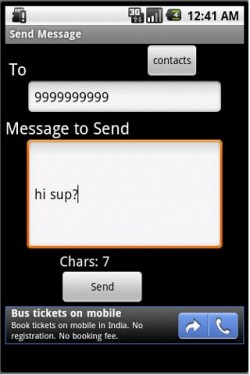 Lets you do all the same as the above app in addition it also lets you to access the messages you sent earlier. Its GUI is more interactive and colorful. Free sms gateways supported are – way2sms, fullonsms, sitetosms.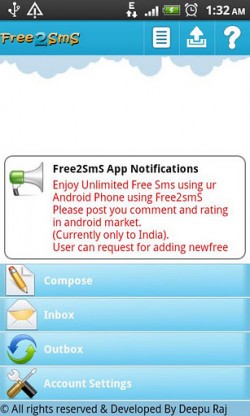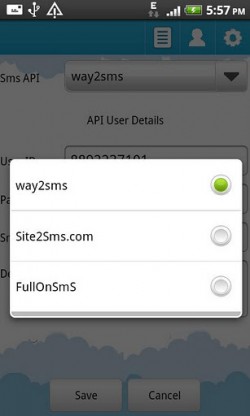 With all the features of the above apps this app provides more advance features. It lets you save the sms gateway account details so you can easily switch between account at any time quickly.
It supports the largest number of gateways from both the above apps. It currently supports 15 Free SMS gateways. Some of which also supports free international sms. For a complete list of sms gateways and International countries supported for free sms checkout the application's page at android market.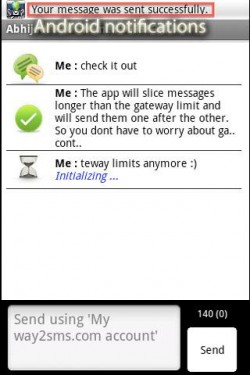 You may also checkout the following Apps –
Free sms by whozzat – Official Android App of whozzat.com, lets you send sms of upto 470 characters, supports flash sms, delivery reports, huge sms collection to choose from, low-cost international sms, and many more. Its GUI is pretty awesome.
FullonSms – Official FullonSms app. Facilitates features such as – Schedule SMS for future delivery, create groups, and more.
Recommended –