To have a backup is always recommended when it comes to digital data, because there's no guarantee what may anytime  happen with your storage device. Same is the case with Android Mobile SMSes. They may be conversations or general messages but sometimes are important for us.
There is one more reason for backing up phone SMS, and which is to free up memory thus speeding up your phone. Its very much true that having too much messages on your phone may slow it down. Or may fill up your phone memory. The best way is to delete all your old messages time to time or if they are important; backup them to a safe place for future references.
Following are few awesome free apps which will help you to to backup your Android Phone SMS to SD Card to your Gmail account –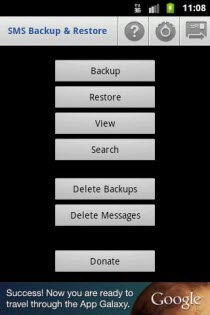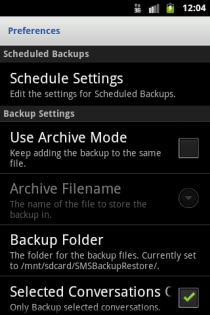 A simple App to Backup and Restore SMS Messages. Trusted by a million users. It lets you Automatic Schedule Backups, Option to backup selected conversations only, Send Backup file by Email.
Backups are created in XML Format on the SD Card. The XML can then be converted to other formats and can also be viewed on a computer.
Another useful feature of this app is that it allows to view Backup file Contents on the phone.  You can easily copy a message to clipboard or forward it to someone else. So you can without any worry delete all the messages on phone after creating a successful backup.
Note: One Downside for this app is that it does not support MMS Backup.
Checkout How to SMS Backup and Restore on Android Phones for a detailed step by step tutorial on How to Backup and Restore SMS using SMS Backup and Restore.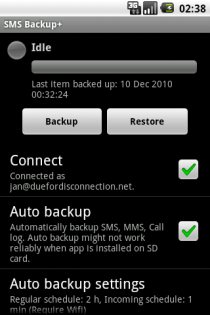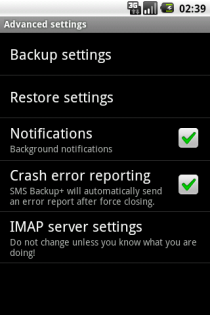 It automatically backup SMS using a separate label in Gmail / Google Calendar. It even support MMS and Call log entries backup. It is also possible to restore SMS and call log entries back to the phone, MMS restore not supported yet.
For backing up SMS to Gmail account this app requires you to enable IMAP in Gmail and set the correct time/zone.
To enable IMAP in your Gmail account, Goto Gmail Settings –> Forwarding and POP/IMAP –> Enable IMAP. Next launch the SMS backup + app on your phone, enter your Google account credentials and the app will immediately copy all existing text messages to a new folder /label in your Gmail account.
For a detailed tutorial checkout How to Backup SMS Messages to Gmail from Android Phones.
Note – Please note that auto backup might not work reliably when SMS Backup+ is installed on the SD card. Future version will hopefully fix this, in the meantime please move it back to phone memory if possible.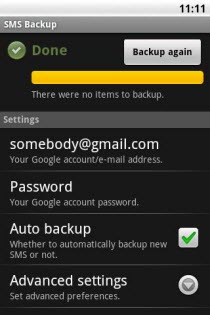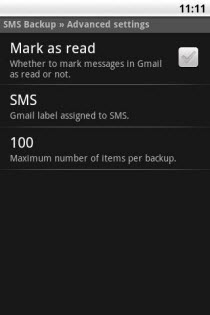 It also automatically backs up SMS messages to your Gmail account. This app also requires you to have IMAP enabled in your Gmail preferences. Configure the app with your Gmail account first. Then when you'll run this app for the first time it will backup all your SMS in your GMail account.
Now the best thing is that as new text messages will arrive, or you send one, the app will automatically sync them with your GMail account in background without you having to do anything.