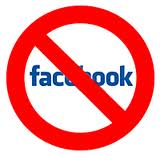 If you are quite bored of using Facebook or if you think it has become too much of time waste for you. And you want to delete your facebook account, you are at right place. Lets first understand some important things.
Facebook offers two options for those who want to get rid of their facebook account – deactivate and delete. You may either deactivate or delete your facebook account.
Now, whats the difference between deactivating and deleting facebook account? (at the bottom is the procedure for both)
If you deactivate your account, your profile (timeline) disappears from the Facebook service immediately. People on Facebook will not be able to search for you. Some information, like messages you sent, may still be visible to others.
In case you want to come back to Facebook at some point, all your account data such as profile (timeline) information (friends, photos, interests, etc.) will be there for you to be restored again. A lot of people deactivate their accounts for temporary reasons.
If you do not think you will use Facebook again and would like your account deleted, keep in mind that you will not be able to reactivate your account or retrieve any of the content or information you have added.
To conclude, if you want to be away from your facebook account for a short duration of time, you must deactivate your account. So you can get all your data back again when you reactivate your account, by simply logging in back. But you want to permanently get rid of your account, only then choose to delete it. Because once deleted, you would never be able to get your account data back.
How to Deactivate Facebook account?
Click the account menu at the top right of any Facebook page
Choose Account Settings
Select Security from the left-hand menu
Click on "Deactivate your account"
How Reactivate Facebook account?
You can reactivate your account by logging in with your email and password as usual. Your profile (timeline) will be restored in its entirety (friends, photos, interests, etc.).
Note: Remember that you will need to have access to the login email address for your account in order to reactivate it.
How to Delete Facebook account?
To permanently delete your facebook account with no option for recovery, log in to your account and then submit your request here.
Related: How to Recover Hacked Facebook Account
You may like: How to Protect Yourself from Spams on Facebook