Nokia recently started following HTC and doing what HTC has done long before. If it is still not clear to you then you should think of fragmenting the product line. HTC is predecessor who has probably inspired Nokia to go for fragmenting its products such as Lumia 710 and Lumia 800. Similar to HTC Sensation, then Sensation XL and Sensation XE; Nokia also produced Lumia 710 and Lumia 800 as part of their strategic experiments. Though these two Lumia phones are not much different from each other still there are some basic differences depending on which you can decide to buy anyone of these.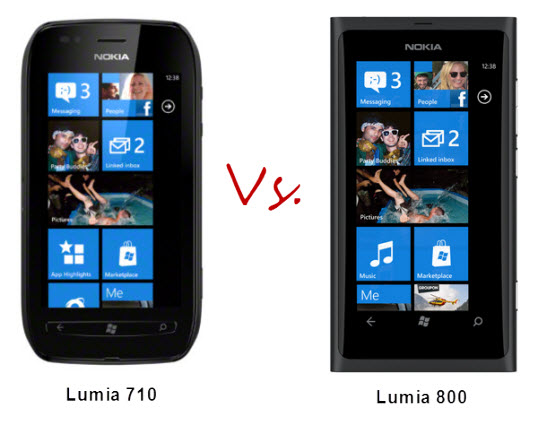 Following are some key differences between Lumia 710 and Lumia 800:
Design: The screen size of both these phones is same i. e. 3.7 inches. Nokia Lumia 710 comes with TFT touch screen while Lumia 800 offers AMOLED screen with Corning's Gorilla Glass. Though Lumia 710 also has this feature but its TFT touch screen has put it behind the Lumia 800.
The weight of Lumia 800 (142g) is slightly higher than Lumia 710 (12.5g). Apart from weight Lumia 80 also scores better than Lumia 710 in its thickness, height, width. Lumia 800 is 12.1 mm thick while 710 is 12.5 mm thick.
But Lumia 710 offers wide range of colors comparing to Lumia 800. While the Lumia 710 comes in White, Black, Yellow, Fuchsia and Cyan, the later is available only in Black, Magenta and Cyan.
Processor, Memory, RAM: Both Lumia 710 and Lumia 800 come with 1.4 Ghz Qualcomm MSM 8255 Snapdragon processor. Both these phones are powered Adreno 205 GPU and having 512 MB RAM.
Lumia 800 offers 16 GB memory but Lumia 710 comes with 8GB memory and the memory of any of these phones is not expandable.
Camera: The difference between these two phones lies in Camera. Lumia 800 offers 8mp camera with LED flash and autofocus features while Lumia 710 comes with only 5mp camera with LED flush. This 8mp camera has put the Lumia 800 into the same level of Samsung Galaxy and Apple iPhone.
Both these phone have the capability of capturing 720p HD videos at 30fps.
Battery: Lumia 800 offers 145omAH battery which means if you are using 3G network you can continue talking for around 9 hours. It works far better if you are in 2G network. You can talk for 13 whopping hours continuously. On the other hand Lumia 710 can allow you to talk for maximum seven and half hours if you are on 3G network and if it is 2G networks you can get maximum six hours and fifty minutes of talk time.
Operating System: Both these phones run on Windows Mango operating system.
Price: Nokia Lumia 800 which costs around 23 thousand ($460) is definitely costlier than Lumia 710 that is available within 15 thousand ($300). Apart from few basic features, price creates a huge difference between these two latest smart phones launched by Nokia recently.