HTC One and Samsung Galaxy are the two most popular android phones that have recently launched in the market. The competitions between these two phones are too high and the buyers are also in two minds. This article will help to compare these two best-selling phones of the year thus discussing about the key features of each phones.
1. The Dimension and the body: Samsung Galaxy S3 offers 100% plastic body that comes with glossy white color and artificial brushed metal finish. The cover of the battery is in many ways similar to that of Samsung Galaxy S2 that has a thin battery cover made of plastic. Though it is quite hard and lasts long if treated carefully but it does not at all give ultra premium, high-end feeling.
The body of HTC One X is made of plastic as well but it looks more impressive and is more solid than the previous one. It can be because the battery is sealed and you cannot get access to the battery.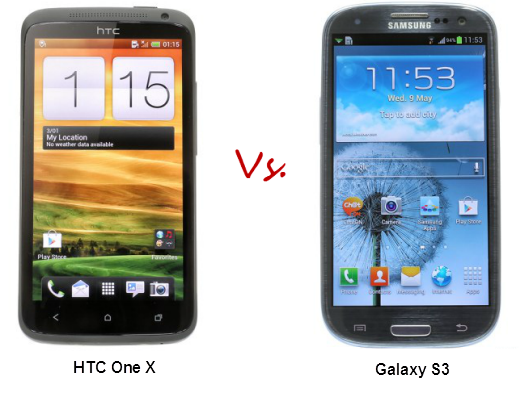 2. Display: HTC One X uses Super IPS Display while Samsung Galaxy S3 offers Super AMOLED display. AMOLED display works better in dark and it has light-emitting pixels. On the other hand HTC offers better color reproduction than Samsung.
You may like: Where to Download Samsung Galaxy Phone / Tab USB Drivers
3. Camera: Both these handsets offer 8 megapixels camera with BSI (Back Illuminated Sensor) and 3264×2448 pixel resolution. Some common features like smile and face detection, LED Flash etc are there in both models. Samsung Galaxy offers 2mp secondary camera with video capture and video call support while HTC One X offers 1.3mp secondary camera with similar features.
4. Storage: in this field HTC cannot beat Samsung which offers 16/32/64 GB internal memory while HTC offers 16/32GB internal memory support.
5. Power: Both Samsung galaxy S3 and HTC One X use quad-core processors which area commonly found in many smart phones. But the Tegra 2 is not as powerful as dual core TI OMAP Galaxy Nexus Processor offered by Samsung.