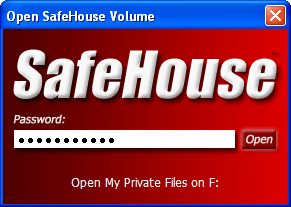 Sometimes we need to password protect some confidential or personal files on our computer. And especially when the computer is shared by more than a single users. Unfortunately Windows does not offer any such facility by default. It does offer to make the files hidden, but that's no protection at all. Everybody knows how to view the hidden files.
SafeHouse Explorer is a free encryption software for windows. It encrypts as well as password protect your files. Now thats double protection. And the best thing is its free.
It uses passwords and maximum-strength 256-bit advanced encryption to completely hide and defend your sensitive files, including photos, videos, spreadsheets, databases and just about any other kind of file that you might have.
It lets you protect files on about any drive – memory sticks, external usb drives, network servers, cd/dvd, etc.
You may like: Password Protect Files and Folders in Windows Without Using Any Software
How SafeHouse Works?
It creates hidden private storage areas on your local hard drive or external media to hold your confidential files.
The private storage area will be invisible until you enter your password. After entering your password you can access your files using the SafeHouse Explorer (which works similar to windows explorer) or from your 'my computer'.
How to Encrypt and Password Protect Files using SafeHouse Explorer?
Download, install and execute SafeHouse Explorer (you can even run it directly without installing eg. on a public computer using usb).
Note: The download file is a standard Windows setup program which installs into Windows much like any other program. You can then copy the actual EXE program file to your memory stick.
Click on New Volume
Read on-screen instructions and Click Next
Choose the storage location and name for your volume file which will hold your confidential files, click next
Define the volume size (max 2 gb), don't change the remaining option. click next.
Enter the password for your volume file, click next
Click on Create Volume. On successful creation you will be see "Volume created successfully" below the progress bar. (this process may take time depending upon the size of volume)
Click Finish.
Now open the volume file you just created in the SafeHouse Explorer and drag and drop files from anywhere to the application.
After adding all the required files, go to file menu and click 'Close Volume'
The files you have added to the Volume are protected and encrypted now.
To view your files, directly click on the volume file you created or load it in the SafeHouse Explorer. Obviously you will need to enter password every time you view your files.
SafeHouse adds a new phantom drive letter to your 'My Computer' to let you access your files easily. The new drive becomes active as soon as your load your volume using the methods described above (point 12). The drive works as standard windows drive and allows you to do all the standard windows file operation. So you can directly add or delete files from the drive. That makes protecting your files more easy and convenient.
Its portable – As I said above you can carry SafeHouse Explorer exe on your memory stick. So you can copy the volume file and program exe to the memory disk if you want to access or use your protected files on any other computer.
Watch the video to learn more –