Timeline is a new profile layout introduced by Facebook sometime back. Earlier it was only available for the developer profiles on Facebook but few days back timeline is now made available for all and its now active on most of the profiles on Facebook.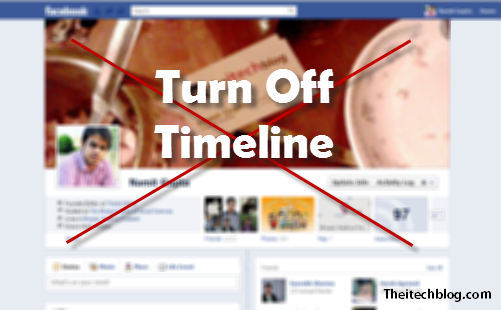 Once you activated the new Timeline layout on your profile there is no official way to reverse back your action. Facebook offers no option to get back to older profiles once the new timeline layout is active.
Recommended – How to Get Back to the Old Classic Photo Viewer of Facebook
But there's a workaround using which you could access your older profile layout back. But there are few limitation to it – its temporary and its limited to your computer only.
Temporarily Turn Off Facebook Timeline
Timeline does not support Internet Explorer 7. That means timeline wont be loaded on any machine running IE7. So using this limitation we can temporarily turn off timeline from our profiles.
Dont worry, you don't have to get back to IE7 again. The trick is to change the 'User Agent' of your current browser to IE7, therefore it'll start working as the old IE7 browser.
Recommended – Backup all your Facebook Profile Data on Computer Hard Disk
There's different way of doing that on different browsers. Below I have listed the procedure for the 4 most popular browsers –
Note – Only perform the following trick when you need to turn off the timeline layout, then undo it. Otherwise it may cause some problems with your web surfing experience.
Chrome
Right click on Chrome icon and select Properties -> Now in the 'Target' field put the following code just after the 'chrome.exe'
For Windows 7 users –
--user-agent="Mozilla/4.0 (compatible; MSIE 7.0; Windows NT 6.0)"
For Windows XP users –
--user-agent="Mozilla/4.0 (compatible; MSIE 7.0; Windows NT 5.1)"
Now click 'Apply" then 'Ok'. Restart Chrome browser and open Facebook, you'll now see the old profile layout.
Firefox
Install the User Agent Switcher add-on -> Restart Firefox -> Add the Agent Switcher Add-on icon to Navigation bar -> Now click on the Agent Switcher Add-on icon and select Internet Explorer 7 from the menu.
Internet Explorer
Install the UAPick User-Agent Switcher -> Restart IE -> Click on the 'UA Button' on 'Command Bar'  -> Select 'IE7' from the 'Template'  drop down list. Click 'Save Changes'.
Safari
Press 'Alt' key on Keyboard to get the menu bar -> Goto Develop -> User Agent -> Select Internet Explorer 7
If you didn't find 'Develop' in the menu list, you need to enable it by going to preferences -> Advance tab.
You may like – F B Purity – Get Rid Of Unwanted Facebook Features / Notifications
[Thanks
Techbung
]