When it comes to comparing two smart phone from the same manufacturer, having almost more about same features and specifications, one has to choose the purpose of choosing the one over the other and off-course the budget. And there we have similar condition when it comes to comparing the two giant Samsung Galaxy Note and Samsung Galaxy Nexus. Both the smartphones flaunts the latest and greatest of features and specifications, but it's really hard to choose the one over the other. So what makes one superior than the other.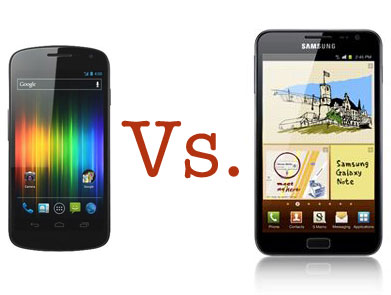 So lets begin the war, Samsung Galaxy Note VS Samsung Galaxy Nexus –
Samsung Galaxy Note with it"s 5.3 inches capacitive touchscreen display has the advantage as well as the disadvantage over the other, which has a decent 4.65 inches contour display, but to me, Samsung Galaxy Note brings uncomfortable handling and it's really hard to be used as a smart phone. You need to carry a separate pouch just to carry it along with you. Though, both having SUPER AMOLED display with 16M deep colors. Samsung Galaxy Note deserves a Tablet like handling where it kills the very purpose of using as a smart phone. Samsung Galaxy Nexus measures 67.94 X 135.5 X 9.47 mm, the other one measures 146.85 x 82.95 x 9.65 mm which is a sort of Tablet cum smart phone.
Both are Android for sure, but Samsung Galaxy Nexus is the first smart phone which sports the latest Android OS v4.0 aka Ice Cream Sandwich whereas the other runs on Android OS v2.3 (Gingerbread) but Galaxy Note in the near future may get the delicacies to enjoy Ice Cream Sandwich.
When it comes to processor, Samsung Galaxy Note is powered by 1.4GHz ARM Cortex-A9 processor dual core whereas Samsung Galaxy Nexus lags a little behind with 1.2GHz Cortex-A9 CPU dual core processor.
Some geeky bites for photographers, Samsung Galaxy Note houses a 8MP camera, 3264×2448 pixels with some basic features along with it, where Samsung Galaxy Nexus comes with a 5MP camera with continuous focus, ZERO shutter lag (means capture instantly) and panorama shot which lets you capture wide shots in a go (though Samsung Note supports this feature too). Having a 5 MP camera, 2592×1936 pixels, Samsung Galaxy Nexus scores over the other. No doubt, both the device have capabilities to record 1080p HD videos and has LED flash to support the camera in dark surroundings. But you can't use zoom feature while recording 1080p videos in Samsung Galaxy Note where the other one can. When it comes to video calling, Samsung Galaxy Note supports video-calling with it's 2MP camera and the other has a 1.3 MP only, these are the front facing secondary camera. Samsung Galaxy Nexus is a sure winner when it comes to camera and features.
Samsung Galaxy is available in two variants – 16/32 GB, whereas the Note comes with comes with only 16GB. Both having 1 GB RAM to support the multi-tasking features and smooth web browsing and lot more. Want more? Both the devices can be expandable up to 32GB, supports microSD.
Other big factor to choose the winner is the network support, both the device has almost similar connectivity features like 3G with HSDPA, 21 Mbps; HSUPA support, LTE enabled, Bluetooth v3.0, USB v2.0, Wi-Fi, but NFC enabled Samsung Galaxy Nexus scores over the Samsung Galaxy Note – it's optional in the latter.
Samsung Galaxy Note is powered by Li-Ion 2500 mAh battery whereas the other has Li-Ion 1850 mAh mAh, but looking at the display size, both the device can manage well enough not to disappoint in terms of battery power.
Both the device are having a capacitive touchscreen, but still Samsung Galaxy Note comes with a S-Pen, a kind of stylus to provide input and write without using the general virtual keyboard.
The two smart phone differs a bit when it comes to price, Samsung Galaxy Nexus being reasonably priced at around 28,000 INR (or $622 approx) where 34,900 INR (or $777 approx) is what you have to spend to own a Samsung Galaxy Note.
Rest, the two device share common features as you can have a look at their official web pages.
If you ask me, Samsung Galaxy Nexus is the one which has won my faith because I choose the one which has latest and greatest with plethora of features to choose from, and yeah the one which can be used as a smart phone rather than a Tablet. Though, no offence to Samsung Galaxy Note too, it is also a good competitor in the Android market.
So which one deserves your generosity. Do share with us?