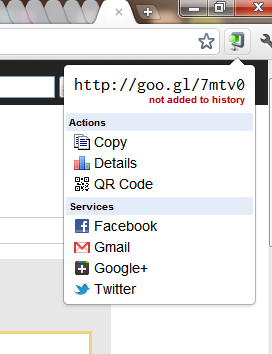 Goo.gl URL Shortener Extension for Google Chrome Browser lets you quickly shorten the current webpage url with the Google URL Shortener and then lets you perform many other actions very easily and in few clicks.
Once installed, like any other extension its icon starts appearing near the address bar at the right side. Click on the extension icon to shorten the current web page url. And its done. The shorten url is ready and is automatically copied to the clipboard.
Other things you can perform with this extension are –
Generating QR Code – Click on the QR Code in the sub menu (that appears when you click the extension icon) to generate the QR Code of the shortened URL.
Share with many different services – you can share the shortened url with a click of a button to many different services on web, such as Twitter, Facebook, Digg, Google+ and there are approx 60+ more such services. You can even email that link using your default email client installed on your local machine or via web-based service – almost all the popular email services are supported such as Gmail, Yahoo, AOL mail, Hotmail.
Other features –
Official goo.gl API support
Official goo.gl history/dashboard support with OAuth
Auto copy to clipboard
Keyboard shortcut
Context menu
Highly customizable
I found this extension quite useful as I share a lot of content with others on web. This will surely make sharing quick and easier for me.
Download Goo.gl URL Shortener Chrome Extension
You may like –
What about you? Did you find this extension useful? Share your thoughts in the comment below.