There are so many cloud storage services on the web, but we can't rely on them to upload/share some confidential or personal information, which we might need to access, like as we use to access information via such online cloud storage services (Dropbox, SugarSync, Box.net). So what's the solution? There's an Android app which lets you access your data stored on remote computer and there's no risk of sharing or uploading data to those services which might use your data or might be sharing it without your permission.
Recommended – Drop Web Files Directly To Your Dropbox Using URL Droplet
Tonido is one Android app which lets you access, share, upload/download files or other media content from and to your computer using an Android smart phone. It's like using your computer as a data server and this app as a medium to access the data from your computer, and there's no third-party which might be a threat to your data.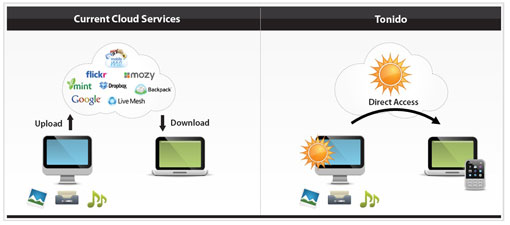 It's easy to use, just download and install Tonido on your Android and computer, and then create an account and allow it act as a medium to access the information.
What You Can Do With Tonido –
You can browse/download files from your computer. Tonido supports numerous file formats like .docx, .xls, .pptx, PDF and much more which makes browsing your computer data on Android easy. Users can also browse their images/gallery too.
Users can access, stream music from their remote computer on their Android.
You can even upload files to your computer.
Users can share the files or other media content with their friends and followers using email.
With Tonido, users can access their entire hard-disk via their Android smart phone.
What You Need –
Tonido works great over Wi-Fi, but you can use 3G too.
Requires internet connection.
Tonido software for your computer (Windows, Linux or Mac), can be downloaded from their official website.
Smart Feature – When the Android device and your computer are connected on same LAN, then Tonido uses local IP address, to access/share/upload/download files from your computer (this way you can save an enormous data usage, and on top, you will get a great download/upload performance).
Take a video tour of Tonido – Android App
Last but not the least, this Android app is free to use, can be downloaded from it's official website or via the Android Market. Supports Android OS v2.2 and above. Other alternative to this Android app is Tappin, but it requires Android OS v2.3+ to work and it's user-interface is bit cluttered too.
Download – Tonido Android App [Android Market]