Most of the Android smart phone are 3G and Wi-Fi enabled, so that users can enjoy web on the go, but sometime such kind of enjoyment could burn a hole in your pocket. Reason? No control over surfing/downloading from the web. So how to avoid that, just grab an Android application which keep a check over your data usage and alarms you to control it.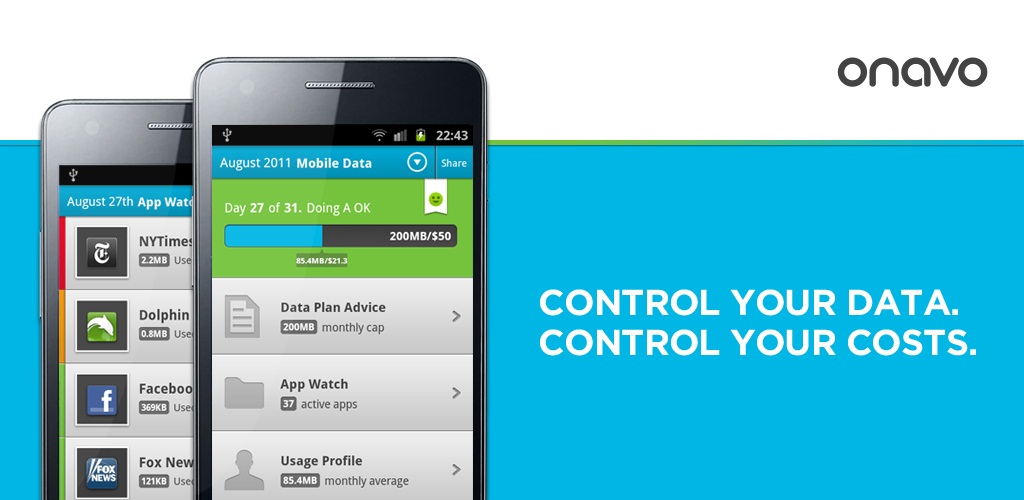 One such Android app is Onavo, which controls your data, thus helps in controlling your costs over data usages. It provides you all such settings and functions which allow you to control your data usage, so that you won't be left surprised by peaking over your monthly mobile bill.
What's So Special In Onavo –
Some websites are real data hogs, and mind you (all readers), Facebook is one of them. Onavo alarms you about such websites which requires more data usage than any other, whether you are in roaming or in your local area. So take actions. Restrict them to Wi-Fi only or use them in accordance with your data plan.
Not only it makes you aware about real data hogging websites, but it also recommend you to surf them over Wi-Fi (when it's available). So users can restrict such websites to be surfed over Wi-Fi.
Once your 3G data plan is on verge of ending or it is has ended, Onavo blocks your 3G data to prevent adding of some additional figures in your mobile bill.
You won't be liking it (the above one), so the best alternative is to set some predefined limits, so you get notified about it's data usage left. You can set your monthly cap, billing cycle and cost, so that Onavo works accordingly to control data usage over time.
Not only that, Onavo once installed on Android, provides you some best value data plans from your carrier or others, so that you can choose the one which best fits your needs and costs.
Onavo is free to use and download, available in the Android Market and works only for Android OSv2.2 and above. Grab it and control your data usage. Download (From Android Market) – Onavo.
iPhone/iPad users can grab this app from Apple App Store.
So that's how you can avoid the unexpected data usage charges. For some more tips I would recommend you to checkout the following article – Surf The Web Faster, Ads Free With Android Adblock