Dropbox being one of the most popular cloud storage service provides every comforts to enjoy different files uploaded in the Dropbox account. If you want to play audio files in Dropbox account, you can try DropTunes which syncs audio files between your computer to your Dropbox account.
How To Play Audio Files In Dropbox Using DropTunes?
Using DropTunes is quite easy and does not require much tantrums to follow. To enjoy this service you need to have Dropbox account (create one if you don't have) and off course some audio files in your Dropbox account. And a modern web browser like Google Chrome (recommended), Mozilla Firefox, Safari, IE8+ which you must be using.
Recommended: Drop Web Files Directly To Your Dropbox Using URL Droplet

Now, Visit DropTunes, login with your Dropbox username and password. DropTunes will access all your audio files and list them to play.
Recommended: Backup / Move My Documents to Dropbox
DropTunes provide two ways to play audio files (flash and HTML5)
Flash – Flash supports only mp3 playback.
HTML5 – HTML5 being advanced technology allows you to play mp3, m4a, ogg and wav audio files formats.
Note: More the number of files in your Dropbox account or the computer (from where the files are syncing), more is the loading time.
To cut down this loading time –
Open Dropbox on your computer
Go To Advanced Tab in Dropbox Preferences
Choose Selective Sync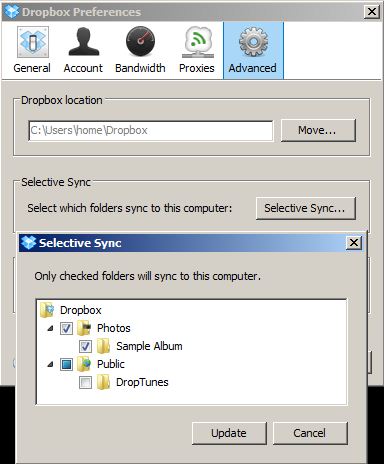 Disable syncing of the /Public/DropTunes folder from your computer.
Now you can enjoy audio files at a faster loading time.
You can also share your music collection with your friends if you are using iTunes by sharing the Dropbox folder having all your audio files in iTunes. To enjoy music on the go, you can also use DropTunes on your iPhone, iPad and iPod Touch having iOS 3.1 and above. You can grab the app from here.
Do you find this web service useful? Do let us know what do you think of it?