Dropbox is an excellent cloud storage service. And the best thing is its available for multiple mobile and desktop platforms, therefore you can easily share your Dropbox files over multiple devices.
You can now even host your static website on Dropbox, Infogenra came up with this useful tip. You must be aware that Dropbox has a public folder, files stored in there can be accessed publicly by everyone. For sharing public folder file with anyone, you just need to provide the other person the particular file URL.
More articles on Dropbox – 
If you have no idea what static site is, it refers to a site which do not update often and does not include any server-side scripting language, such as PHP or ASP. It comprises of simple html code and images.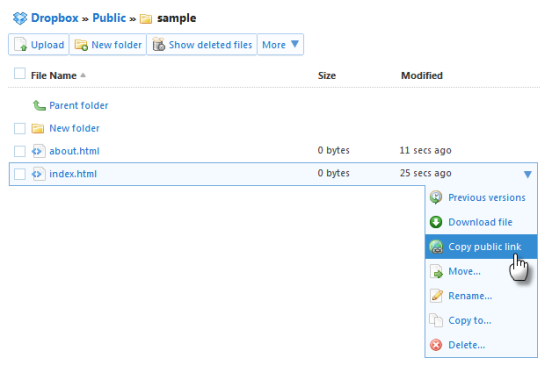 How to Host your Static Website on Dropbox
Login to your Dropbox. and Navigate to the Public folder. In case you have deleted it earlier, create a new folder and name it 'public'.
Now create a new folder with any name inside public folder. We assume 'sample' in our case.
Copy all your static site files – HTML, CSS and Images to the folder 'sample', you just created.
Finally copy the public link of index file of your site. for doing so, click on the index file and select "Copy public link" from the menu.
Now try that URL in your browser to verify everything is working fine.
If everything works fine, you can share that URL with others or if you want a dedicated domain for your site, you can get one registered for yourself and set up domain forwarding to the public link of index file of your site.
You may like: Cheapest .IN Domain Deals
That's it! your site is now freely hosted on Dropbox.
Let us know if you experience any trouble.