Cloud storage services are on rise and is a new trend to save our important documents, files over the cloud. One of the most used service for cloud storage is Dropbox. With the use of such services you can upload your files over to the cloud and retrieve them whenever, wherever you want using Internet. We upload our files from the our local drive to the cloud storage, but what if we want to save a file from the web itself. Would you download it your local drive first and then upload it to your cloud storage service account? This is just a waste of time and internet bandwidth. So how to save that?
Related: Backup/Move 'My Documents' folder to Dropbox
It's time to try URL Droplet, which accept your file URL (direct download links) and transfer it directly to your Dropbox account. Now just calculate how much time and bandwidth we save using this service. As the transfer is from one server to another which ultimately takes very less time and the user simply prevented the file from downloading it to their local hard-drive and then uploading it again over to the web.
How It Works?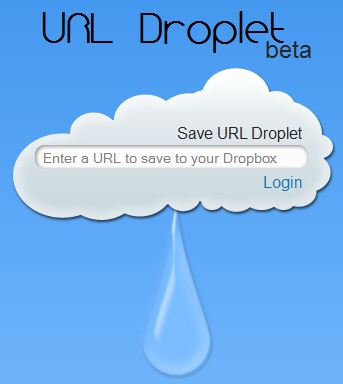 Visit URL Droplet.
Login using your Dropbox account credentials. Allow access to use the service.

Provide the direct download URL of the file which you want to transfer to your Dropbox account to the URL Droplet. Ensure that the link provided is direct downloading link of the file.

Now the file is queued for downloading, you can transfer as many files you want. After selecting desired number of files, sync it to your Dropbox account. Now all the files will be saved to your Dropbox account's main folder.
So this way you will save downloading/uploading time and a considerable amount of internet bandwidth which can be utilized in other productive work.