There are lots of tutorials on the web on how to download YouTube videos, but sometimes we got stuck at the videos shared by our friends and followers on social networking site and websites other than YouTube. One basic thing is that every video is downloaded to our computer (stored in web browser's cache) before we can enjoy them in our web browser. The difference lies in extracting that video from browser's cache and using that in future without having to download it again. Some can do that, others may find that a bit tricky to extract it from browser's cache.
You may like: Search And Download YouTube Videos As MP3 Instantly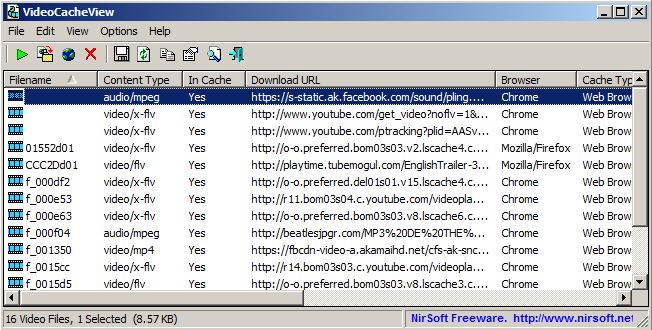 So here's how to grab that video from browser's cache with the help of this tool. VideoCacheView is a mere tool which extracts the previously watched video from the cache further which can be saved for future use. You need to just download and run this tool, which once runs, scans the web browser's cache and temporary files for the stored videos and list them allowing you to copy it from there. You can also play the video right from there if your media player is configured to play .flv files. VideoCacheView support all web browser's like Google Chrome, Mozilla Firefox, Internet Explorer, Opera.
And yeah, whenever you view a flash video file in your web browser, it is downloaded to the temporary folder which you cannot copy that file from there (it's restricted). But with VideoCacheView, you can copy that file from some folder within your reach, and these files can be played using a .flv configured media player like VLC player, which is one of the most advanced player supporting a wide variety of video files. So that's how we can extract our videos from the web browser's cache thus saving every video we watched previously on web.
Download – VideoCacheView
Do let us know if you find this tool useful and what other tools you are using to download YouTube videos from the web.