Ubuntu being the most popular Linux Distro, is one of my favorite too as it provides various tweaking options to play with rather than using the slow Windows OS. I would like to make you aware about the fact that Ubuntu releases a new version of the same every six months and general updates on a regular basis to provide you the best. Now downloading these updates do takes a little time as Ubuntu uses it's own servers to serve your needs which might not provide you the faster download speed, so to speed up things, flip to the server which is closer to you. Now choosing one is also a daunting task (if you choose to do it manually), but don't worry Ubuntu has an option which will automatically choose the server which best suits you.
You may like: Enjoy Windows PC Games On Linux Ubuntu With Game Drift
How to Choose Best Sever for Downloads in Ubuntu?
Head towards Ubuntu Software Center, it is one stop shop for all your software/tools needs, by clicking on Application >> Ubuntu Software Center.

Choose Software Sources from the Edit menu. A new window will pop-up.

Move on to Download from option and choose Other, you will be taken to the next window – Choose a Download Server (shown in the image).

Click on Select Best Server.

After that, a series of ping test will be done to find the best mirror depending upon your location to locate the best server. Click on Choose Server to select the one which is being displayed after the completion of ping tests.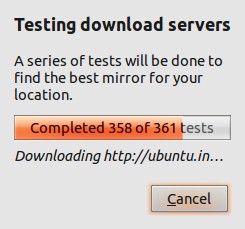 Now enjoy the faster speed while downloading tools and updates, whatever you download from Ubuntu Software Center (source for all your tools and other needs) or Synaptic Package Manager (used to install, remove and upgrade software packages and to add repositories).
Do you find this tutorial useful? Do let us via comments.