Are you hardcore gamer and Linux Ubuntu fan, but has to stick to Windows PC just to carry out your lust for gaming? Then there`s a solution which will completely allow you to play Windows PC games on Linux Ubuntu out of box. Out of box means no virtualization software is required to play games indirectly using the Window OS. Dont have any game? follow the link to buy the video games in India.
Game Drift Linux is the new Linux distribution based on Ubuntu Linux from the Danish company Linos, it is the dedicated version for gamers which provides the best of both – Windows PC games like Need for Speed, Counter-Strike, WoW directly within the system using the CrossOver game technology and off course, Linux games too.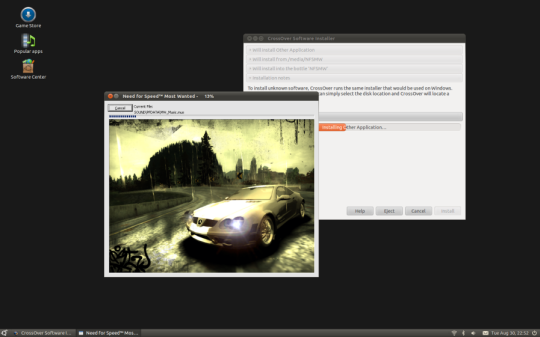 The CrossOver game technology is based on Wine, adds a compatibility factor which allows us to enjoy Windows games and applications on Linux. Without this technology you won`t be able to play Windows games on Linux.
Not only it provides the platform to play Windows PC games on Linux Ubuntu, but also consist of plethora of features including –
1200+ quality games based on Windows PC to enjoy on Linux Ubuntu via CrossOver technology. (Built-in game store)
One click installation for most of the games provided by the Game Drift Linux Store. (Sigh, from the hefty installation procedure in Windows PC)
Support for new games is added regularly.
Commercial and open source both type of games are supported.
System Requirements –
Game Drift Linux is light as feather, but it is actually the game which requires these sort of system requirements to enjoy it on Linux Ubuntu. Check out what they say about the system requirements.
1-2 Ghz processor (32 or 64 bit)
1-2 GB memory
4 GB hard disk drive for Game Drift Linux (excl. games)
ATI, NVidia or Intel graphics adapter suitable for games
LAN/Internet
Check the Game Drift in action:
Get Started by downloading Game Drift Linux which is completely free but it is the CrossOver Gaming Technology which costs $19.