MapMyIndia CarPad is the first 3G Navigation Android Tablet in India. MapmyIndia CarPad is loaded with all-India maps, which includes, over 5 million places, around 5,79,000 villages and towns of national level maps, 1200 cities of street level maps, 18 cities of house level maps. It is purely developed by the Qualcomm technologies. It works as we travel in the car. The CarPad comes with the interface of Navigator Aura and also it features the turn by voice navigation. It's easy to find everything, you can go anywhere, can use conveniently in back or front seats of car's and can easily carry. It also has the capability of handling the games and GPS application.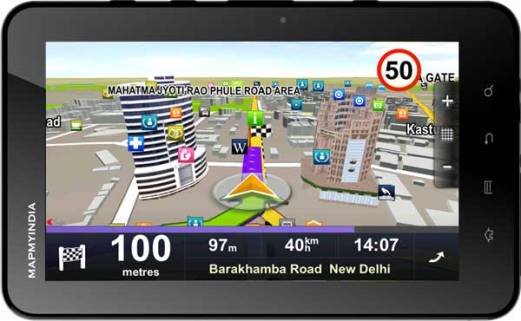 MapMyIndia uses the GPS navigation which comes with preloaded Aura maps. It also has the entertainment feature with tablet functionality of listing music and playing games. The main feature of the tablet has data connectivity through WiFi, 3G UMTS, 2G GPRS with EDGE technology.
Features MapMyIndia CarPad Android Navigation Tablet –
Its easy to view and operate while driving.
Watch the movies.
It has the ability of showing 3D maps which includes streets, land marks, terrain, house level details etc.
Provides the voice command for direction.
This device has the 7" TFT-HD capacitive touch screen.
Supports 32GB of memory.
Has the connectivity of mini USB and microSD.
Provides 2 Mega pixel camera and built-in FM radio.
Has the ability for calling, messaging, chatting, and so on.
Contextual travel guide and helps to find friends.
Used to share their location.
Able to see the travelling distance.
It Contains Android OS, built-in Wi-fi.
Specifications of MapMyIndia CarPad Android Navigation Tablet –
The MapMyIndia CarPad is running with the Android 2.2 Froyo operating system and it functiones with 800 Mhz Qualcomm Snapdragon S1 processor, which has more capacity to run fast. It comes with 7 inches TFT capacitive touchscreen with the screen resolution of 800*480. The battery available is 3400 mAh and as usual the standby time is 420 hours and talk time is up to 7 hours, most probably the charging time takes up to 5 hours.
The camera provided in the tablet is 2MP with video recording in the rear side of the tablet. The connectivity includes the Bluetooth v2.1 with EDR and data  is enabled with 3G, WiFi, 2G GPRS and Edge technology. Its builded with sensors such as G-Sensor, E-Compass and Light Sensor. The memory comes with 8GB Micro SD Card and supports up to 32GB. It has a 3.5 mm audio jack to enjoy the music and videos and also to listen FM stations. To charge the CarPad Tablet you can use the Mini USB Port or you can also charge with normal DC Charger.
Prices and Availability –
MapMyIndia carpad Anroid tablet is now available in market and it priced at Rs. 22,990/- at its release date September 15th. The kit box contains the tablet, pre-installed MapMyIndia Navigator Aura, 8 GB free SD card, USB data cable, wall charger, stereo headset with microphone, head rest mount, windshield mount, tablet holder, warranty card and starter guide.
You can easily purchase the MapMyIndia CarPad android navigation tablet from official site Mapmyindia.com/carpad.
This MyMapIndia CarPad can also be used when we travel outside country. It will prove to be very useful for drivers and passenger to see route with clear idea. It will help users to get the detailed routes of where they are traveling.