File manager application provides several advanced options for easy management of files on your Black Berry device. Below we have listed two of the best file and media managers available for Black Berry devices –
1. Beam Explorer
Beam Explorer is the most popular free File Manager for the BlackBerry. Its easy and convenient to use. It allows you easy access to content stored on the device. It works similar to regular desktop computer file manager. So you wont find any difficulty using it.
File managers are used to access stored content on mobile phones, such as images, videos, songs, applications, pdf documents, MS Office documents, etc.
Beam Explorer Screenshots: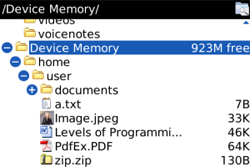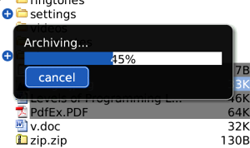 Beam Explorer shows files in a vertical hierarchical manager. Icons are similar to windows file explorer. With the regular file manager operations (copy, cut, paste, rename, delete) it also let you manager zip files (zip, unzip).
Key Features of Beam Explorer include:
Intuitive file explorer
Copy / cut / paste / rename / delete
Create new Word, Excel, PPT documents
File search
ZIP / UNZIP functionality
Support for the back button
Attach stored content to e-mail
fully interoperable with the BeamReader PDF Viewer
2. File Manager Pro
Another recommended file manager for Black Berry is File Manager Pro, it's a premium application. It offers almost all the features of Beam Explorer, apart from that it also offers some advanced features such as Integrated Text Editor, Managing Favorites, Advanced Sorting if Files, Fast Folder Navigation and the most important of all, it offers the Touch Screen Support.
File Manager Pro Screenshots: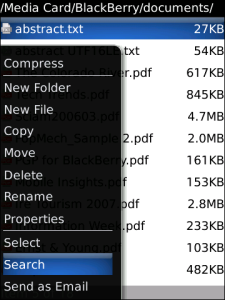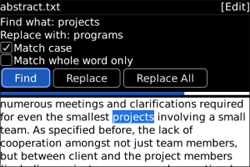 If you need only some basic file management features, we would recommend you to go for Beam Explorer, because it's a free app you can directly download and start using it. Or if you need advanced functionality offered by File Manager Pro, you'll have to shed some bucks in order to purchase and use it (you can use its 7 day trial before purchasing it).