One of the top social networking site listed today is Facebook, which has more than 800 million active users. Among that 50% of users are logged-in to their Facebook account on any given day. Though other social networking sites are also coming up to try their best such as Google plus, Twitter, LinkedIn, ibibo and so on.
According to the Global reach of social networking sites Facebook is listed in the top due to the timely changes with good visual appearance and more user-friendliness.
Facebook recently added the subscribe button into the user's profile, now it made changes to the news feed which we are going to sharing in this post.
(If you are not happy with the recent Facebook changes, you may find this useful Get Rid Of Unwanted Facebook Features or Notifications.)
If you are visiting Facebook now, you will see some changes on Facebook news feed, improvements in friends list, a new subscribe button, increased photo image size in status updates and many other changes.
Earlier Facebook has two tabs of most recent stories and top news which is now changed as single tab. The top stories works when you get new stream updates, if you are logging into the Facebook account after a while then you will first get noticed the new updates as top stories. And you can also check the recent stories by just scrolling down your Facebook stream.
Top Stories at a Small Glance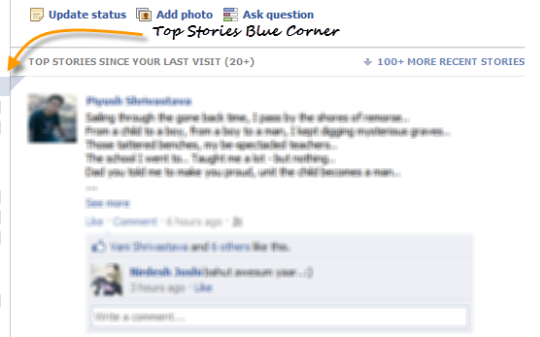 Top stories are seen at the top of your news feed which is marked as blue corner. Top stories are determined from lots of factors such as published stories since your last visit, by comments and likes, relationships to the person who posted the story.
The top stories mainly includes the published stories since your last log in. If you find the post is not a top story then you can navigate to top right corner of the corresponding stream to unmark it from top stories.
Real-time Ticker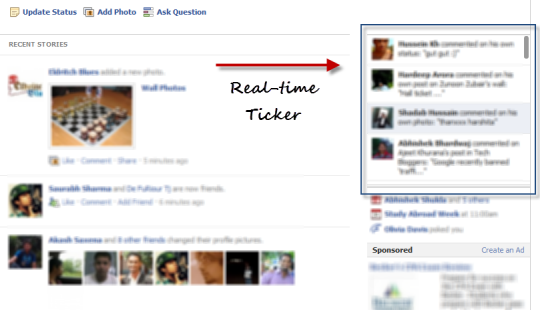 In right side of your Facebook stream you will find a new ticker which shows you all the updates of your friends activity which includes the live stories like conversation of your friends who are commenting on photos or chatting on messages and so on.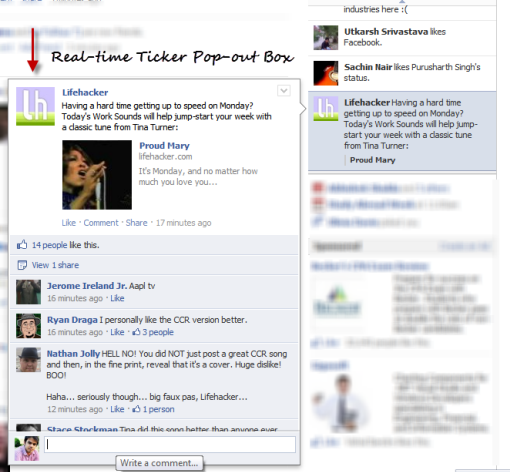 The ticker also helps you to add friends in real-time by just seeing the overview of friend in real-time to just expand your friends network.
This cannot be hidden in other words currently there is no option to close the ticker but you can control your friends activity by just clicking the right corner arrow button in the friends activity pop-out box.
To know more about the Facebook new rollouts just watch the video below:
These updates are made for active users to stay live longer on Facebook and also to stay live and stable with their competitors sites.
Did you liked these new updates from Facebook? Have you say in the comments below.