File Manager Application lets you browse though the file structure of your Android phone. Android by default does not offer any file manager. So users in need of such facility need to install file manager app from the market. A file manager easily let you manager files stored on your SD card, which includes move, copy, create, delete operations on files, and even much more.
There are a lot of File Manager Applications available in the android market. However we have compiled a list of some distinguished apps for you. Each of which comprises some unique features. Have a look –
Best File Manager / File Browser Apps for Android –
AndroZip is a multi functional file manager for android. This single app combines features of several apps together. It's a robust file manager and along with it also works as an archive manager, task manager, app installer. and in addition also allows you to take app backups, search files and also send files.
The most attractive part is its User Interface, which is clean and simple. The app is easy to use and comes in both free as well as paid version. The only difference between both is the display of Ads (obviously free version shows ads). And if you want to use AndroZip ad free you can go for the premium version.
AndroZip Features –
Has multiple/batch move, copy, delete, create ZIP
Supports the following data compression formats – ZIP, encrypted ZIP, RAR, TAR, GZIP, BZIP2, 7ZIP
Installs to SD card (app 2 SD)
AndroZip can create encrypted (AES 256 bit) ZIP files compatible with WinZip.
Note – AndroZip can also unpack 7Zip (BETA under development) files but if dictionary file used to create 7Zip file is less or equal 6 MB. If it is larger (like 64 MB … 1 GB) then due to limited RAM size unpack operation will fail.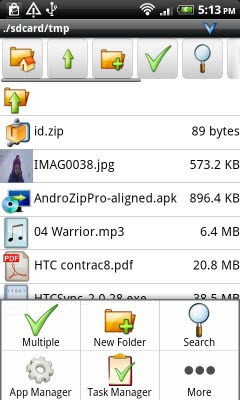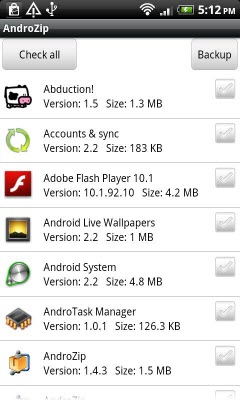 Its an advance file manager for rooted phones, i.e. your phones need to be rooted for using this app to its fullest. The best thing about this app is that it allows you to access the whole of Android's file system including the data folder. It also boasts off a SQLite database viewer. Its is only available in premium version.
Root Explorer Features include –
SQLite database viewer, Text Editor, create and extract zip or tar/gzip files, extract rar archives, multi-select, execute scripts, search, remount, permissions, bookmarks, send files (via email, bluetooth etc), image thumbnails, APK binary XML viewer, change file owner and group.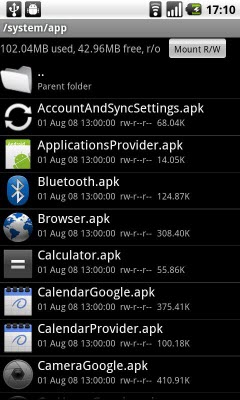 Astro File Manager is a simple file manager which lets you manage pictures, music, videos and files on your android device. It allows you to easily manage all of your files on your phone or tablet. Its a hugely popular app – has been downloaded over 15 million times.
Astro File Manager Features include –
File management, file and/or app backup, Image and text viewers, networking, SMB, Bluetooth, SFTP, Zip Tar, downloader, thumbnails, search files, application manager, task manager, attachments and more.