Game save files are precious, as all your hard work you have put into Games, clearing all the levels, are stored in there. If save files are gone, you may have to start playing the game from the beginning again. But no need to worry now, as there are certain tools which let you backup all your games save files. So, in case you lost them, you will be able to recover them from the backup.
Below are few more reasons why would you need to have a backup of your Games Save files –
In case you are planning to move to a new computer system. You need to move all your save game files to the new computer system, to be able to resume playing your games from where you left them on your old machine. In this case game backup managers will make your task much simpler by providing you a single compressed backup file containing all your game save files.
Creating game save backup could also help you in case you want to share them with friends, you can take with you your game backup file and restore it in your friend's computer system. But do ensure to not to overwrite your friends existing save files.
Tools for Backing up your Games Save files –
1. Game Save Manager –
Game Save Manager automatically search for all the installed games on your computer and lists them. You can them backup all of them in a simple click of a button. Or you can exclude any of the game from the list before beginning the backup.
Game Save Manager has all the regular features such as – Automatic Updates, Ftp Support, Backup Validation, Dropbox Support, Scheduled Backups, Password Protection, Ignore Games.
Its main features include – 
Its lets you Quickly and easily share gamesaves with friends and family.
If you have a game installed on your computer which is not supported by game save manager, you can manually add it yourself and back up its save files using the game save manager.
One of the distinguishing feature is Dynamic Restoring. GameSave Manager dynamically detects restore paths, allowing you to restore gamesaves on your PC even if you've installed the games in a different directory / drive than before.
Separate Archives, this means you could optionally create separate Backup Archives for each gamesave selected.
It also allows you make your backup password protected.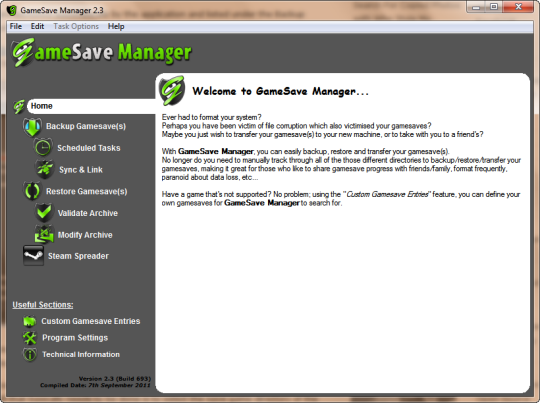 2. Save Game Backup.net
Save Game Backup.net allows you to Backup or Restore all of your game saves in just a couple of clicks. It currently supports over 1,200 games.
Regular features – Custom Game Entries, Dropbox Support, Automatic Updates, Ignore Game List
Main Features – 
The main thing I liked about this software is that its portable, all its files are stored in a single folder, which can be moved to a different computer system using a thumb drive.
Contains complete out-of-the-box language support for English, Dutch, French, German, Russian, Spanish, and Slovenian languages.
Save Game Backup.net does not offer any option for password protection. Thus the created archives are not password protected, so they can be viewed/edited with any archive manager. All restoration information is stored in the comment section of the zip file.