Bootable discs are mainly used for operation system installation, repair, maintenance or booting up a live OS. In case you would like to first test a bootable disc before making a final run, earlier there was no such option but now there are some tools which let you test a bootable disc in your current operating system itself, without restarting your computer. And for safety reasons, its highly recommended to first test run an untrusted boot disc before finally booting from it.
Following are the Tools which could help you with Testing Bootable Discs –
1. MobaLiveCD
MobaLiveCD is a freeware tool that allows you to run a bootable disc inside windows itself. Its powered by "Qemu" emulator. It's an easy to use tool and using it you can test run any bootable USB, CD or ISO file in just a click.
It Provides with Three Options –
Right-Click Menu – This option adds "launch MobaLiveCD" to the right-click menu of ISO image files. Therefore after activating this feature, you'll just need to right-click on any bootable ISO file and select the MobaLiveCD option to test boot it.
Run the LiveCD – This option allows you to choose an ISO image file to test boot by browsing your hard drive.
Run the LiveUSB – This option allows you to choose a bootable USB thumb drive and to start it.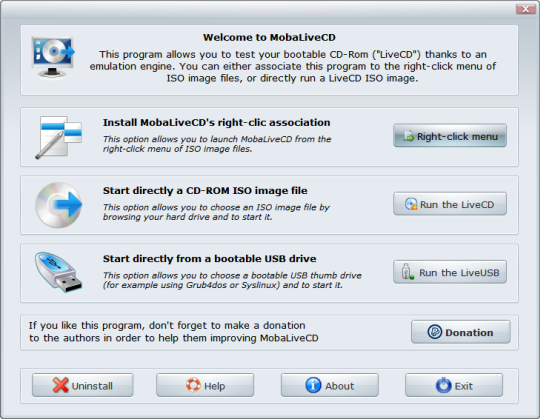 MobaLiveCD features –
In case of an ISO file stored on your hard disk, you don't even need to burn it on a disc. Directly select the iso file using "Run the LiveCD" option and MobaLiveCD will boot it instantly.
You can use the right-click menu for an easy and quick start.
MobaLiveCD does not require any installation, just click on its application icon and it starts up.
Its portable, copy it to usb drive and run it directly from there.
A clear and easy to use interface
Light application, packaged in a single executable of 1.6MB only
2. Virtualization Software

Virtualization Software lets you create a virtual machine inside your current Operating System. This virtual machine acts like a real separate PC. And also accepts bootable devices in a similar way. Some visualization software also supports booting from an ISO image.
Some popular Virtualization software are Virtual Box (Free and Open Source), VMWare, Virtual PC.
One great benefit with these software is that they are available for multiple operating systems, unlike MobaLiveCD which is limited to Windows only.
To test a bootable disk using virtualization software, first install any one of the above mentioned software, create a virtual machine, configure its boot options and finally, turn on the just created virtual machine. And it will boot from CD/DVD or ISO image whatever you configured earlier.