Android by default does not provide any option to lock photos, videos or installed applications. But you can add this functionality to your android phone by installing some privacy protection android apps.
Privacy is important in today's time. If your mobile is used or accessed by people other than you, privacy becomes even more important. If you are serious for your privacy and do not want anyone to be able see your personal pictures, videos, messages, etc, check the following list of android apps, using which you could easily password protect or hide personal data on your phone.

Protect your Personal Data on your Android Phone using the Following Apps –
Note: Do ensure to unlock all the locked media before removing any of the below mentioned application or else all the locked photo/video will be lost. However almost each of the following applications provide some option to later recover them, but its good to be precautions.
Smart Lock lets you password protect photos, videos and installed applications. The app has a simple and elegant interface. Locking process is simple. It has three tabs – Apps, Media and Contacts. Got the appropriate tab and click on the Add button at the top. Select from the list the items to be locked and click on the lock/register button. Then turn the App Lock On by tapping on the "App Lock Off" check-box.
Using Smart Lock you can protect your valuable and sensitive private data such as text messages, email, photographs and schedules, etc.
Smart Lock is a popular app, downloaded more than 100,000 times from the android market.
Smart Lock Offers Various Features such as –
App Protection (lock execute, prevent the screen turns off, prevent the screen auto rotate).
App Hide Mode (lets you hide the app from the app menu (home launcher). You can then use the app widget or dial "#000" to launch the app).
Default as well as any other downloaded app can be password-protected.
Fake Mode (will show fake crash error message in app lock view).
Smart Lock Self-Protection for the "Uninstaller".
Password/Patter authentication support.
Service start by remote. (using sms, only available in paid version).
Note – Smart Lock is available in both free as well as paid versions. Free version shows ads and registration is limited to three app/ten media.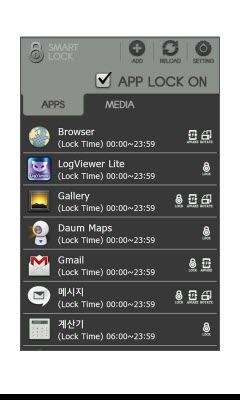 Fast App Lock is a One touch App locker. Its only intended for locking apps and does not provide any option for locking photos and videos. Locking any app is simple. Install the "Fast App lock", launch it. The app consists of a two view interface – Locked App and Unlocked App. Unlocked App/Bottom View shows all the installed and default apps, just tap on the app you want to lock, and it will get locked and moved to the upper/locked app view. And vice versa for unlocking.
Features:
Unlock mode: this app provides two different lock modes (traditional number unlock and pattern unlock) which allows users to choose from.
Widget switch: you can quickly select the app locks on/off by the widget on the desktop. One touch to lock apps without complex process!
Note: If enter the wrong password for three times, you can not re-enter in three minutes.
Gallery Lock, locks individual photo/video with password. Locking process is simple, go to gallery -> long press on any image -> select share -> select Gallery Lock from the list, you will then be asked to select the gallery lock folder to categorize your image. Locked media will then only be visible in the application.
Gallery Lock also has a feature to hide itself from the app menu, so nobody will even get to know that you have any such app installed on your phone. After activating the hide feature you can launch the app by dialing a special code on the keypad.
Some other Features include –
Manage photo by folder.
Pincode/pattern password support.
Slide show of lock image.
Gallery Lock is available in Free as well as Paid versions. The lite (Free) version shows ads and you can only lock up to 10 media files.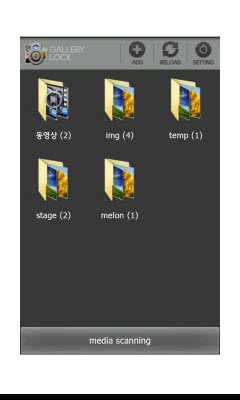 Most of the features of this app are similar to the Gallery Lock App, the only major difference is the media locking process. Unlike the previous app this app lists all the non hidden as well as hidden media files – images and video, in the app window itself.
To lock and media file, long press on any file and select Hidden, you will then be asked if you want to move the media to any other folder or keep it in the same folder. Tap on the suitable folder and the media file will then be visible only in the application and get hidden from everywhere else, including the android default gallery.
This app also comes in both free as well as paid version. Free version shows ads and you can only lock limited number of media files.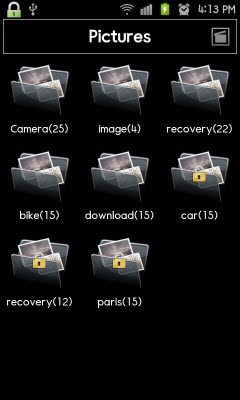 These were some of the free applications we find the most appropriate. If you use any other app, do share with us in the comments.