If you are an Android enthusiast and looking for some interesting apps for your Android Smart Phone, you are not limited only to Google Android Market. You'll be glad to know that there are many other Android markets to get your apps from. However Google's Android Market is the best and is one source for majority of android apps. But there are some apps which are unique to other markets, which you wont get on Google Android Market.
Following are the Various Other Android App Markets (in no particular order) –
1. SlideMe – SlideME's philosophy is simple: one Application Store can't reach everyone, everywhere with the applications they want. So they provide applications to those niche markets, based on geographic location, payment method or even types of applications that users can't find in traditional channels. They open up those markets to developers, who can deliver and sell their applications globally.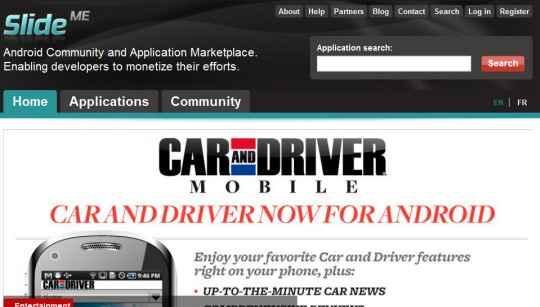 2. Soc.io Mall – Soc.io Mall is a one-stop-shop for everything Android you may ever need, from apps and games to books, music, videos and more. Currently they provide thousands of apps, games and free e-books, and audio books, music and video are coming very soon.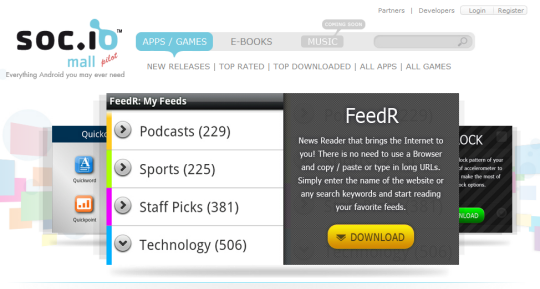 3. Amazon Android App Store – The Amazon Appstore for Android is a place where you can get a great paid app for free every day, see app recommendations based on your past Amazon purchases, and shop using Amazon's secure 1-Click payment technology. You can also test apps on a simulated Android phone using a feature called "Test Drive." You can shop from your computer or directly from your phone or tablet.
4. Phoload – Phoload is a new community website based on the idea that it should be simple, easy, and fun to discover and download free mobile phone games and applications. Users of the website can rate, review and recommend the software they download.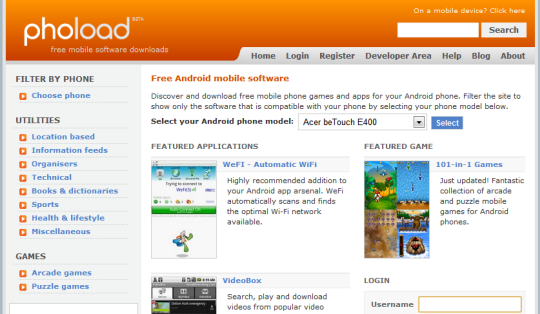 5. Mobihand – MobiHand is a leading distributor of software and content for smartphones, including BlackBerry, Windows Mobile, Palm, Symbian, and Android devices. The company partners with media companies, portals, retailers, device manufacturers and operators to deliver customized desktop and on-device app shops.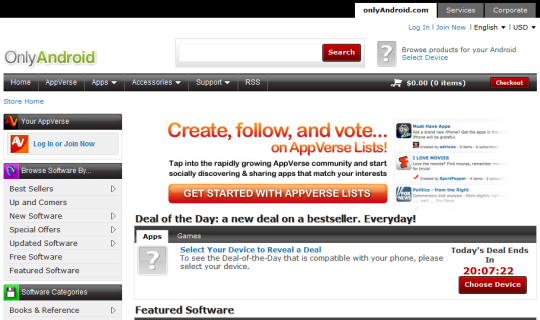 6. Appslib – AppsLib is the application marketplace for Android tablets. Thousands of apps are available to download straight to your Android tablet. With all sorts of Tablets out there, with all sorts of different hardware, it can get hard to find apps that work great on your tablet. At Appslib you can see which apps have already been tested to work on your tablet by their engineers.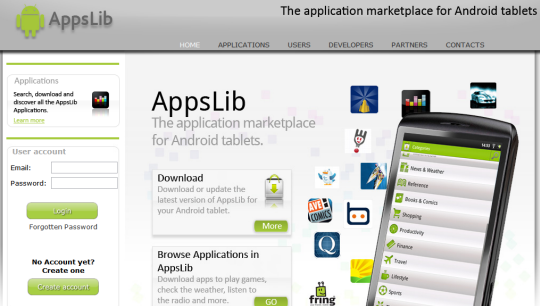 7. GetJar – GetJar is the world's largest free app store with over 2 billion downloads to date. The company distributes more than 150,000 mobile applications across a variety of operating systems including Android, Blackberry, Java, Symbian and Mobile Web.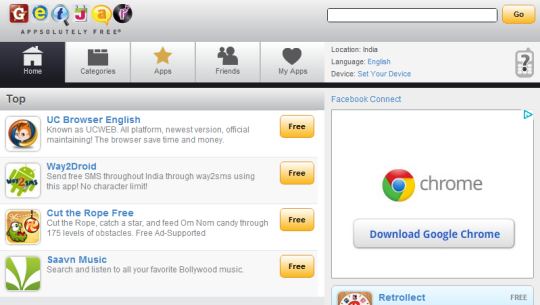 Some more places to try out for android apps – Handango, AndroidGear, Insyde Market.
Note: To install apps from other market places on your Android Device you need to enable "Unknown Sources" option under Menu -> Settings -> Applications. Only then you'll be allowed to install non-market applications on your Android device.