Facebook is all about connecting with Friends. It's a great platform to connect with your existing friends and as well for making some new friends. A new connection on Facebook begins with a 'friend request'. You stumbled your friends profile on Facebook, now the first thing you'll do is to send his/her a friend request and upon its acceptance by the other person you both are now connected.
But what if you mistakenly sent a friend request to someone unknown believing it to be someone else. Or may be for any other reason, you now want to revert your action hence you want to cancel the friend request. Fortunately Facebook offers such an option but, it's not clearly visible.
To Cancel a Friend Request on Facebook Follow the Below Procedure –
1. Goto the person's profile whom you sent friend request to
2. Scroll a bit and checkout for the option 'Cancel Friend Request' at the left side below the list of friends.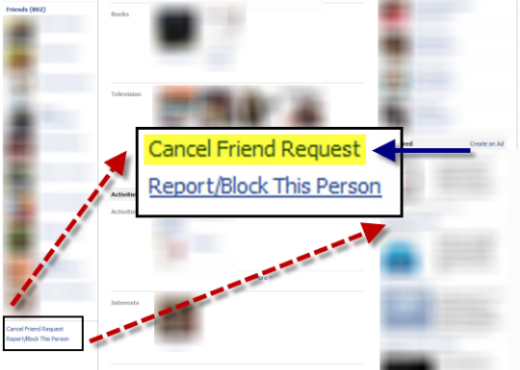 3. Click on the 'Cancel Friend Request' link and the friend request will be immediately canceled.
Also see: Update Facebook Status via Any Fancy Device Without Actually Having One