Many of us write blogs, whether it's a personal blog, professional one or micro blogs on sites such as twitter or Facebook. Blogging is interesting and a good way to connect with people. And now with high-end mobile phones blogging is not limited to desktop computers, it can now also be done on various mobile platforms.
The platform we are going to talk about today is Android. Android offers great deal of applications for almost every purpose. So today we are going to talk about some great apps to help you blog from your android phone. Almost all popular blogging platforms have their official app for android users. Using these apps you could do almost every blog management related work from writing new blogs to managing already published blogs or readers comments.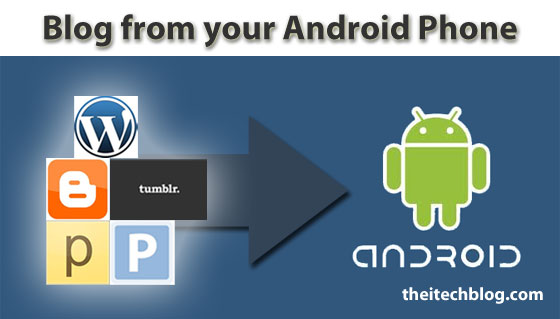 Following are the Six most Powerful Blogging Apps for Android Phones –
These applications are a must if you write time critical articles like news stories or if you like to blog on the go. And I would also like to add here that writing large blogs is not practically possible on mobile phone because of their small size and slow typing speed. But you can easily write short blogs or even manage already published blogs with the help of above mentioned applications. I mostly use the WordPress for android app for approving new blog comments. If you know of any other mobile blogging app do let us know in the comments.