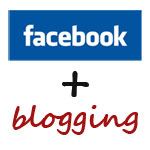 If you spend a lot of time on Facebook and you also love blogging. But the problem is writing blogs take time and you love Facebook so much that can't afford to be away from it for longer but also want to blog side by side. If that the case with you this article will surely help you out.
Blogging consumes time. If you want to give your best you need to invest time on your articles. Facebook too consumes a lot of time but usually the time spent on it is non productive. It's just for pleasure. For fulfilling your social needs, you like to connect with people and spend time on Facebook.
Two Options could be Considered as for the Blogging on Facebook
Make a Blog on Facebook itself
Link Blogger, WordPress or any other Blog with your Facebook account.
We'll look at both of the above options in details.
#1. Facebook itself is a kind of micro blogging platform. The status updates you write is a kind of short blogs. But with 420 characters limit. However you can share a long blog-style post using the Notes feature. Notes allows you to write the same type of information as any other blogging platform on the web. You can use it for writing anything you want. But its biggest disadvantage is that its only limited to Facebook user community. It can't be easily shared with the outer world people.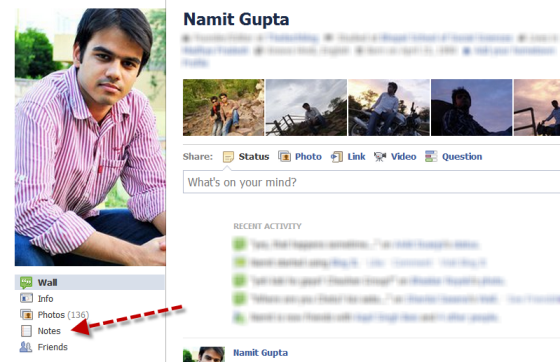 So you can surely go the Notes feature to write blogs on Facebook if you want to share your blog with your Facebook friends only. That will surely help you carry out your writing desire and make Facebook a little bit productive too.
#2. There's an app Blog IT, which lets you blog inside of your Facebook account by adding multiple blog accounts to it including Blogger, TypePad, WordPress.com, WordPress.org, etc.
To use Blog IT application you will need to add it to your Facebook account. For doing so search for Blog IT and add & authorize the application to your account. Add & Authorize the blog account from the list of services you wish to blog on. That's it! You will then be presented with a blank blog to type on. Publish a test post from within Facebook to check whether its working fine or not.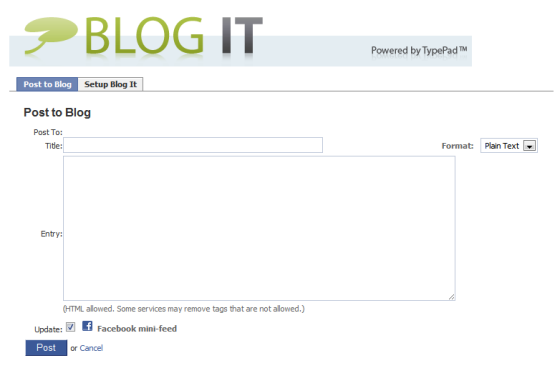 Blog IT also shares your new blogs on your Facebook wall automatically. Just check the box "Update to mini-feed" above the post button.
Blog IT supports: TypePad, Blogger, FriendFeed, Jaiku, LiveJournal, MovableType, Pownce, Tumblr, Twitter, Vox, WordPress.com, WordPress.org Site.
Note: Advanced options are not yet available (pictures, html code, etc) and you will have to go to your blog to add these features.