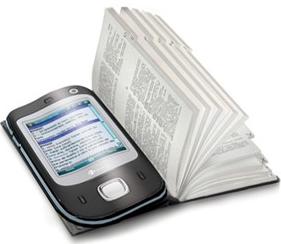 Gone are the days when people use to keep bulky dictionary besides them while reading. In today's digital world everybody has a mobile phone. And almost every mobile platform has a dictionary app. Which makes it extremely easy to find word meanings.
Time is the most important thing today. Finding a word from a thousand word dictionary is a time-consuming task. It might be a quick task for the ones who are habitual but then also it can't be as quick as picking up your phone, typing a word and clicking the search button.
Related: Best Free Offline Dictionary Apps for Android
There are many features which these Dictionary mobile apps offer such as audio pronunciation, voice-to-text search and Spelling suggestions. Today we are listing down some best dictionary apps which makes is really fast and fun searching word meaning using your android phone.
The free Dictionary.com app delivers reference content from Dictionary.com and Thesaurus.com. The app also features audio pronunciation, voice-to-text search and Dictionary.com's popular Word of the Day and Hot Word blog.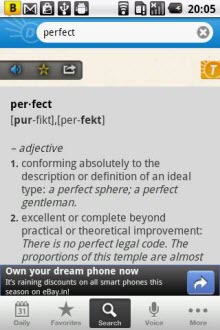 Chosen as "Best Dictionary App" by the book "Best Android Apps: The Guide for Discriminating Downloaders", O'Reilly Media. Free Dictionary is an English Dictionary that gives you English definitions, synonyms, pronunciation and spelling.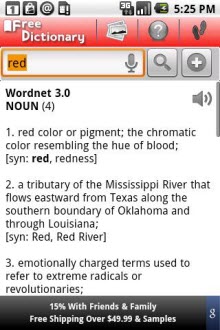 Instead of following the standard dictionary format, the WordNet dictionary is organized with an innovative and convenient approach. Nouns, verbs, adjectives and adverbs are grouped into sets of cognitive synonyms, interlinked by means of conceptual-semantic and lexical relations. In addition to the straightforward definition the dictionary shows how each word is linked to other words in terms of synonyms, opposites and similar words, but also hyponyms and hyperlinks within the group. That helps you to better understand the word meanings.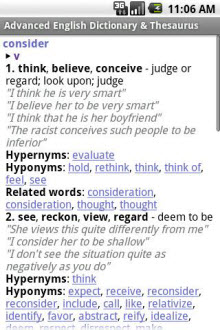 This application allows you to browse offline dictionaries. This is useful when the Internet connection is not available. That is the best advantage of using this app. This is the only dictionary among the other 5 in this article that works offline. So if you do not have any internet data plan activated in your mobile phone. You could once download this application using any public wifi or your home wifi and then you can very well use it anywhere offline. Dictionaries are downloaded to the SD card the first time the application is run.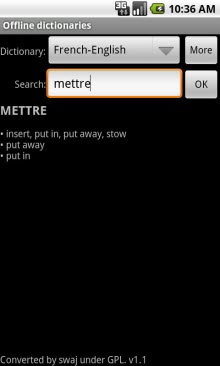 The Audio Cambridge Advanced Learner's Dictionary provides definitions for about 170,000 words, phrases and examples and is compiled to offer what learners need most in a dictionary. The Third Edition offers new, up-to-date vocabulary (e.g. sex up, speed-dating, whiteboard), new 'mini-collocation' boxes, and new frequency information to highlight the most important words to learn. The new Cambridge Advanced Learner's Dictionary gives you everything you need to learn English!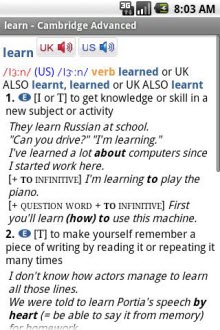 Multi Lang Dictionary also works as a Translator gives multiple results with accuracy and speed. It is powered by Google Dictionary, Google Translate and Wiktionary as online resources.