Microsoft is working on the next generation of windows which has been code-named "Windows 8". And this is the first time Microsoft has demonstrated about the windows 8 user interface and they have also released a demonstration video (find the video below after a bit of scrolling). All this took place at the D9 Conference.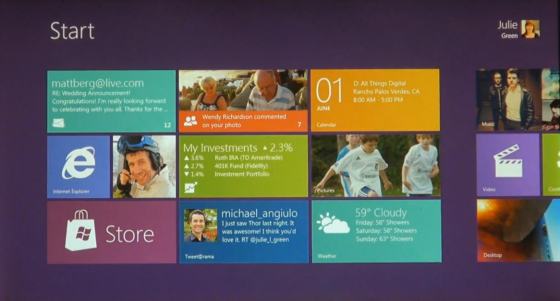 Windows 8 is innovative and re-imagination of windows from chip to the interface. Its interface is very different from its previous versions. No small icons, no bottom taskbar and no start menu. It's totally different. Its being designed and optimized for tough centric hardware. The OS will work on touch only small screen devices to the large screen devices with or without keyboard and mouse.
Although its new and different but there's no compromise as to the support for old windows programs and applications. The full capabilities of Windows continue to be available to you, including the Windows Explorer and Desktop.
Also see: Windows 8 Transform Pack for Windows 7
Below is a list of few aspects of the new Windows interface:
Fast launching of apps from a tile-based Start screen, which replaces the Start menu with a customizable, scalable full-screen view of apps.
Live tiles with notifications, showing always up-to-date information from your apps.
Fluid, natural switching between running apps.
Convenient ability to snap and resize an app to the side of the screen, so you can really multitask using the capabilities of Windows.
Web-connected and Web-powered apps built using HTML5 and JavaScript that have access to the full power of the PC.
Fully touch-optimized browsing, with all the power of hardware-accelerated Internet Explorer 10.
Checkout the video below to see some basic elements of the New Windows Interface:
After watching the video I must say that the windows 8 tile based interface looks similar to the windows phone 7 interface. What you have to say?