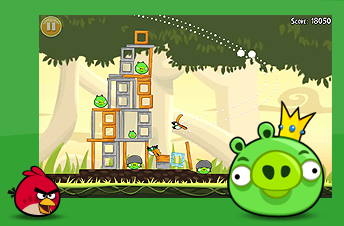 You can now Download and Play Angry Birds on your Windows desktop or laptop Computer without the need of Internet. This game does not require any introduction. Its popularity have crossed all the limits. However you are hearing this name for the first time you can Google it to know more or follow the link in the next paragraph.
Earlier we wrote Play Angry Birds Game Online. The online version is powered by flash but the new version is a standalone windows app which requires no browser, no flash. i.e. you can play it offline without the need of any Internet Connection.
The windows downloadable version of Angry Birds is not free. However its cheap, costs $5. Ravio Mobile, its developer, also offers free working demo with all the initial levels unlocked. After you enter the serial number all the 240+ levels get unlocked in the demo version itself.
You can buy the full version using PayPal or the credit card. Next you will get the serial number via email. Although it fully works offline but the internet connection is required for the activation process.
Angry Birds and Angry Birds RIO are available as windows versions. Angry Birds Seasons is not yet available but is expected to be available soon.
After playing Angry Birds for few minutes on my PC I must say that this version offers much better gaming experience than the online flash version. Graphics are very rich and sharp.
Angry Birds is compatible with windows XP, Vista and Windows 7. I would recommend you to try the demo version before purchasing to ensure that it is working properly on your PC.