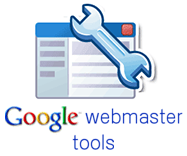 Google Webmaster Tools are a set of tools which let you keep track of how your sites is performing in SERPs. These tools give you a comprehensive report about how Google is finding your site, what keywords are you ranking for, and the errors or problem if any which Google is facing in crawling your website, and much more. So overall its a great collection of some useful tools.
To use webmaster tools you only need to verify domain ownership and it soon starts showing SERPs data of your domain.
Webmaster tools also provides us with a message center so that Google can keep the domain owner updated with important news and information relating to their domain. for eg. malware notifications, crawling issues, etc.
But think, what if you missed any such update and that is possible because you wont be able to or remember to check your webmaster account daily. Google tries best to provide the webmaster with any important information related to their domain. But if the webmaster misses out on anything, it may prove injurious to himself. To save you from any such communication gap Google provides with an option to forward webmaster tools message to your email id. So that you never miss out on any important information.
How to Set Up Message Forwarding in Google Webmaster Tools
Login to your Webmaster Account
Verify your domain if you haven't already done that
Under the 'All Messages' heading at the top, click on the drop down box at the right corner and select "Forward to email-id@gmail.com"

That's it! Now you will get all the important information relating to your domain even without logging in to Google webmaster tools.
Guest post by Jack, he is a SEO and Web Marketer. To know more about him and his work visit the Web Marketing Group Website.