Previously we wrote a review of AdsensePress WordPress Theme. And now we are giving away 2 licensed copies worth $58 of the same theme. I would like to thank the AdsensePress developer (Mayur Somani) for sponsoring us two copies of this excellent WordPress theme for the giveaway. If you haven't gone through our review post about this theme, let me give you a very brief introduction – AdsensePress is a premium WordPress theme which is fully Adsense Optimized and offers the highest CTR (Click Through Rate). – Checkout Adsense Press Demo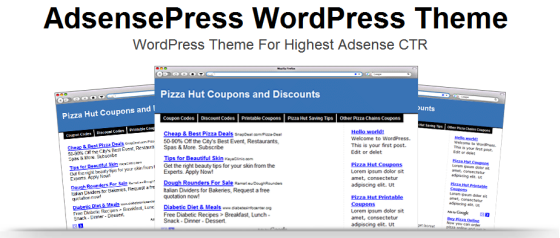 Coming back to the point, we are giving away 2 licensed copies of AdsensePress Theme. The rules for the participation are simple.
To participate please follow the below rules –
Retweet this post (use exact below text for the retweet).
Retweet and Win AdsensePress, Highest CTR WordPress Adsense Theme http://theitechblog.com/?p=1719 @theitechblog
Share or Like this post on Facebook (Optional)
Comment below with the Retweet link. (How to get Tweet or Facebook Share Link)
Winners will be selected randomly using the random.org.
Giveaway will end on 30th May 1st June and the winners will be announced within the next 24 hours.
Note: Please be sure to include the Retweet link in your comment otherwise your entry will not be counted.
Note : The theme is currently available at an unbelievable price of just $29 (limited period price). The price is very soon expected to rise. So instead of waiting with a hope to win the giveaway, purchase the theme right away, and in case you do win the giveaway, Theme Developer (Mayur Somani) will refund your money!
Update : The two lucky winners who won the AdsensePress Theme are Atul and Devi. They would be emailed with a licensed copy of theme asap. To view the winner selection video follow the link.