AdsensePress is a simple and lightweight Premium WordPress Theme. Its fully Adsense Optimized and claims to offer the highest CRT (Click Through Rate).
The main reason behind the high CTR with this theme is the simplicity in its design. It offers a very simple two column layout. Which highlights the ads and bring them to the user's attention. And finally the user gets attracted and clicks on the Ads. Making money with this theme is easy. You only need to attract visitors and leave rest upon the simplistic design of AdsensePress.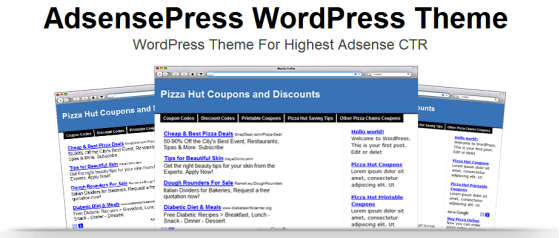 AdsensePress is easy to set up. It provides you with a Custom Admin Panel inside your WordPress dashboard. Where you can enter the Adsense Ad Codes, analytics Code, Some basic Layout settings, etc. Hence there's no need to touch the theme code.
Screenshots of AdsensePress Admin Panel:
And one more advantage you will get with this theme is fast loading speed. As the theme is simple and light weight. It loads up very quickly. And since the site loading speed is now a parameter in search rankings in Google, that will be a added benefit for you.
Lets do a quick recap!
AdsensePress WordPress theme provides you with:
Best AdSense CTR
Simple and Elegant Design
Easy to Setup with Custom Admin Panel
Loads Much Faster
Fully SEO Optimized
With all these features it's surely a catch. And now I would like to reveal one more good thing about this theme and that is its price. Its cheaper than any other WordPress theme available today. The theme is available at an unbelievable price of just $29 (limited period price). Now there nothing to stop you. Follow the below link and get it now.
Checkout Adsense Press Demo
Get the AdsensePress theme now
Update: AdsensePress is more like a theme club now. Which offers several awesome high CTR WordPress themes. You can now grab all these WordPress themes including the theme mentioned in this article for just $69. Follow the above link for more details.