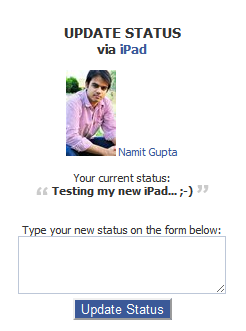 Recently I got into a friends prank where he falsely updated a status on his wall claiming it to be by an iPad. The status was looking damn original as it has the apple logo and the text 'via iPad' at the bottom. Later he revealed it was a prank and also the trick by which he performed it.
I too tried the same prank with my Facebook friends and got some really interesting reactions.
Here I am sharing with you the trick, check it out and do let me know what you updated on your wall and using which device. ;-)
The trick is very simple, all you need to do is visit this application and enter any text you want to update as your status then click on the 'Update Status' button. The application will post the text on your wall as a status with the proper iPad branding.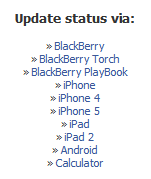 Watch out for a list of other devices at the bottom of the application page. You could use any other device in the list following the same above procedure.
So start updating your status with any fancy device and play a prank with your friends. And don't forget to share this article with your friends on Facebook after the prank gets over. I hope you will enjoy this simple trick.