Earlier I wrote Watch DLF IPL Season 4 Matches Live Online. But if you neither have TV or your computer with you can also get DLF IPL live updates anywhere anytime on your Android Phone. For busy professionals who are interested in IPL cricket but didn't get the time to watch the live match could use these android apps to stay updated with the match scores.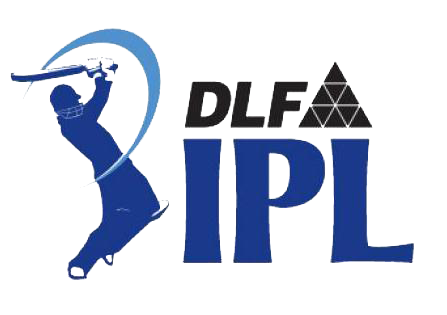 Android Apps to Stay Updated with IPL on your Phone
Cricket IPL 2011
The Cricket IPL 2011 is a free Android app which is fast and easy to use, it provides you with:
Live ODI and IPL matche scores and news as they happen. Live cricket commentary. IPL 2011 Twitter Feed, Follow your favourite players on their twitter feeds. Complete database of player, team and venue stats, records and trivia. Set tailor-made notifications and reminders to never miss a match again! And the IPL points table.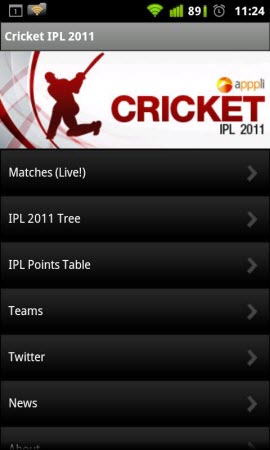 Download Cricket IPL 2011
Cricket IPL 2011 – Pro
Note: This is an Unlocker only. Please Install the above Free version first before installing this one.
Pro version removes ads and provides 30-sec score refresh rates. The Pro version will be hidden from view after installation. Please continue to use the free version after installation.
Download Cricket IPL 2011 Pro
ESPNcricinfo
The official ESPNcricinfo Android App brings you the most comprehensive cricket coverage from around the world. The customizable app featuring a special IPL Section includes all of ESPNcricinfo's in-depth coverage of the game. ESPNcricinfo provides with the Live IPL game coverage. It also provides with the Scorecard, Results, Fixtures and Tables of current and earlier matches.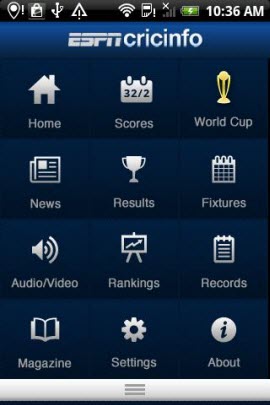 IPL Cricket Live Score
IPL Cricket Live Scores is the most comprehensive cricket LIVE score visualization app for Android devices from www.cricitch.com. The app covers IPL, All international T20, ODI, Twenty20, IT20 and Test Cricket matches can be viewed extensively in this nifty app that provides near real-time feeds.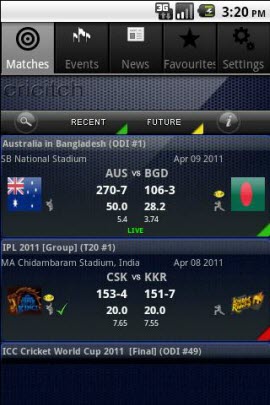 Download IPL Cricket Live Score
CricScoredroid
CricScoredroid promises to be simple and fastest in android market. It shows current cricket matches with current score, results and fixtures, It also includes Audio Commentary and home screen widget. Also includes comprehensive Scorecard.
With the help of this application, a user can select a particular match for detailed scorecard. The user can also subscribe to various notifications and alerts such as wickets and score updates in various forms (Status bar alert or toast, audio).
It also includes a home screen widget which displays the current score. Application Settings includes score update rate, widget match selection and notification media selection(With sound, vibration or light). User can set up Reminder for match start.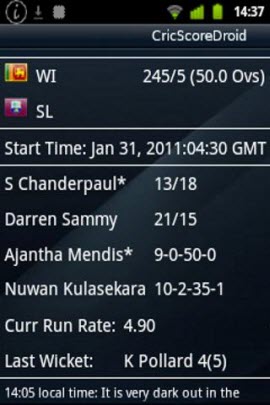 Download CricScoreDroid
You can also try out the following apps to Get the Live Updates on IPL on your Android Phone – IPL Cricket T20 2011(Season-4) – Cricket Pro (IPL Edition) – IPL 2011 – IPL Mania.