Microsoft Desktops is a software utility developed by Sysinternals team at Microsoft. It lets you organize your running applications on to four different virtual desktops. Read emails on one desktop, browser internet on the second, do other productive work on the third and so on. Desktops utility helps make work organized and eliminates clutter on the computer screen.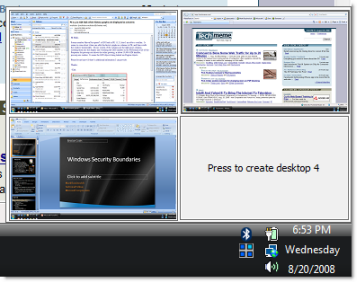 The four desktops will share the same set of icons, wallpaper and color schemes. The only difference will be the different applications window placed on each one of the four desktops.
Desktops runs in your windows taskbar. And you can easily create or switch virtual desktops either by clicking on the tray icon which shows up small thumbnail preview of all the four virtual desktops, then select and open the required desktop by clicking on any of the thumbnail or the other way is to use the assigned hotkeys. You can configure the hotkeys at the time of installation or later by going to options by right clicking the desktops tray icon.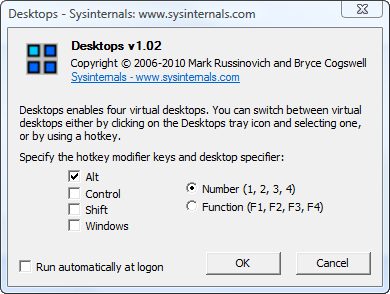 Microsoft Desktops is a very light application and  is supported on Windows XP and higher versions. I tried it on Windows 7 and it worked well.
Related: Cairo – Widows Shell Alternative