The first thing I do when I start my laptop is checking the Emails and Facebook updates. (Although after getting an Android phone I now get the email updates on phone) But when on Facebook sometimes I get so engaged that it takes away hours of my productive time. And when I realizes this I already have wasted hours doing unnecessary browsing on Facebook. This is not the problem with me alone, I am sure many of you also face this kind of unproductive times.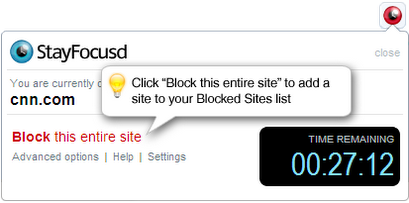 StayFocused is a Google Chrome extension which lets you stay focused on your work by restricting the amount of time you spend on the unproductive time-wasting websites.
How Stay Focused works
Set the maximum amount of time you wish to spend on the selected websites you think are time-wasting for you.
Add time-wasting websites to the extension's block list.
Now whenever you will visit any of the websites you have added to the extension block list the extension timer will start. And upon the completing of the specified time limit the selected websites will be blocked.
Stay Focused extension is highly configurable, allowing you to block or allow entire sites, specific subdomains, specific paths, or even specific pages.
That means you can block delicious.com, while still allowing access to delicious.com/save so you can add new bookmarks. Or you can block google.com/reader while still having access to the rest of Google's sites.
Do you face the same problem of wasting hours doing unproductive work on Facebook or some other website?