Note: This Chrome Extension is no longer available.
If you think of exporting phone numbers or other contact info of all your friends on Facebook you might drop the idea thinking about the time it will take to manually copy and paste phone numbers of each friend one by one.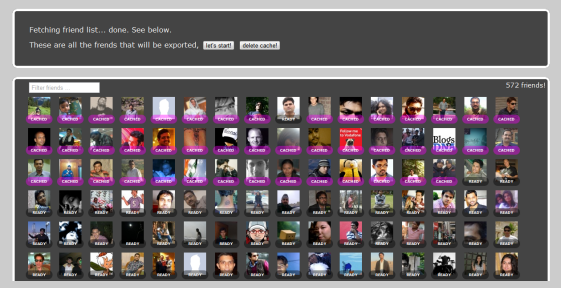 But there's a Google chrome extension which can save you from this problem by performing that task automatically. Facebook Friend Exporter extension automatically goes to each of your friend's profile and collects the required information. It takes time but saves your manually effort.
The extension will collect the following information of your friends that they shared to you:
Name, Emails, Phone numbers, Screen names, Websites.
You can store the extracted information to a CSV file or directly to your Google Gmail Contacts.
Also see:
How to use Facebook Friend Exporter extension
1. An "Export friends!" button will appear on your Facebook.com toolbar on the top.

2. Click on it and follow the on-screen instructions.
3. The processing may take a very long time depending on how many friends you have.
4. After your done, an export link will appear (Gmail, CSV)
Due to some Facebook policies the extension couldn't extract more than 60 profiles data in an hour. So you have around 600 friends it might take up to 10 hours for the extension to complete its work.
The extension offers a very useful 'caching' feature. All the processed data stores in cache. If you close the extension window anytime while the extension is processing, data will not be lost. The next time when you'll open the extension it'll start processing the remaining friends.
Here's a quick video screencast (by Digital Inspiration) that demonstrates how this thing works:
Will you use this extension? Let us know your views on the utility of Facebook Friend Exporter extension.