You can update your Facebook status, upload new pictures and videos via email. I don't think many people will find this feature useful at least not for updating status messages. But this feature can come handy at places where Facebook is blocked and also the social networking desktop clients are not installed. At those times you can easily update your Facebook account via email.
How to update your Facebook account via email
1. Goto this link facebook.com/mobile
2. Login to your account
3. There you will find 'Upload via email' section at the bottom, there you will get your personal email address.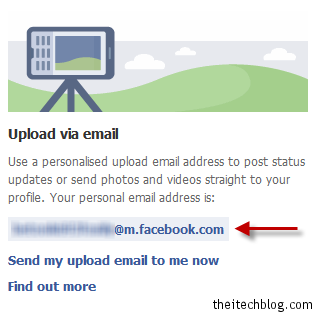 4. Copy the email address
5. This is the email address where you will direct your emails.
You have got your personal email address for updating your Facebook account. Now how to proceed further, how to send updates to Facebook. Follow the below tips:
The email subject will be used as the caption of your photo or video if your email contains a photo or video.
The email subject will be used as your updated status if your email does not contain a photo or video.
Photo and video uploaded via email are visible to everyone by default. You can change this for any album from the site itself.
Note: Don't tell your personal email address to anyone. Because by using it anyone can update your Facebook account, which can get you into trouble.